Where Do Contractors Stand Regarding DOE Enforcement Standards?
Written two years ago and going into effect in 2018, Department of Energy (DOE) Regional Efficiency Enforcement Procedures will impact your HVAC business. To read the regulation behind these procedures, click here.
Recently, manufacturing giant Emerson surveyed HVAC contractors across the country to find out their understanding of and reaction to these standards. Interestingly, many respondents focus on growing their business as they navigate these residential and commercial regulations.
While 75% of residential contractors surveyed are aware the DOE developed regional standard enforcement procedures involving contractors, only 14% understand the requirements associated with compliance and the risk of non-compliance. The Emerson survey found many contractors are also concerned about the additional work that enforcement creates.
From a commercial perspective, more than half the contractors surveyed are using the impact of new efficiency regulations as an opportunity to offer systems with higher revenues/margins.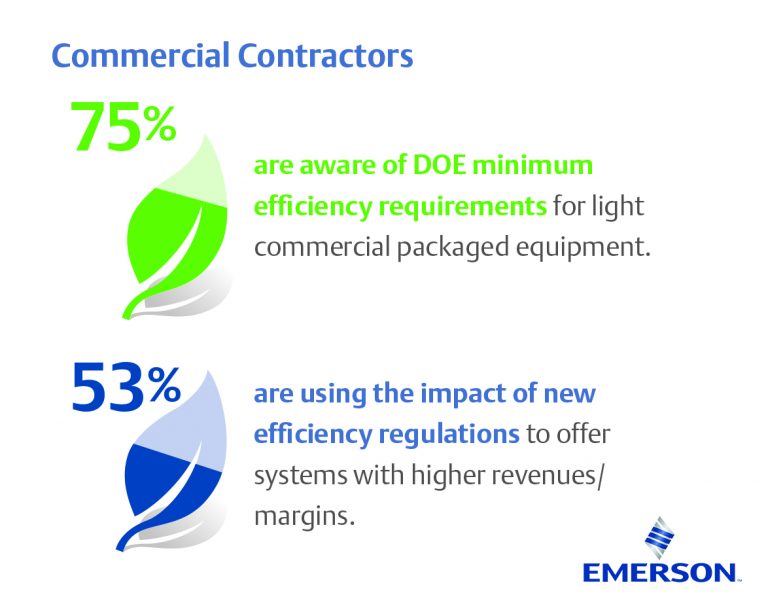 Respondent contractors said they can provide options to their customers with messages on higher efficiency, payback, and increased comfort.
Furthermore, the Emerson survey found that more than a quarter of commercial contractors say they are not aware of DOE minimum efficiency requirements for light commercial packaged equipment. But contractors who are keeping up with regulations cited several ways they stay informed. This includes trade publications, wholesaler staff, training classes, industry associations, and by leveraging tools provided by their manufacturer partners.
David Hules, director of marketing, commercial air conditioning for Emerson's Commercial and Residential Solutions platform says changes in regulations are a constant. He adds they impact everything from how HVAC manufacturers design equipment, how contractors apply it, to how they maintain it. He says Emerson strives to stay up to speed on the landscape of such changes to better understand their impact and then help educate the industry on the implications.
AHRI Does Not Support Steel and Aluminum Tariffs
In March 2018 the Air-Conditioning, Heating, and Refrigeration Institute (AHRI) voiced concern and disappointment with proclamation signed by U.S. President Donald Trump to impose additional tariffs on steel and aluminum, according to a recent press release.
AHRI membership consists of 320 HVAC manufacturing companies. They all rely on abundant, economical supplies of steel and aluminum to make their products and equipment. AHRI does not support additional tariffs on steel and aluminum due to the impact on manufacturers and consumers.
AHRI President & CEO Stephen Yurek said, 'As major users of steel and aluminum, we are proactive in explaining to the administration that the HVACR and water heating industry would be negatively impacted by an increase in tariffs, as would the consumers who rely on the products we manufacture.
"We are pleased with the Trump Administration's support for manufacturing. We are also happy the President did include at least a temporary exemption for supplies from Canada and Mexico. However, we believe tariffs to be injurious, rather than helpful, to our efforts to increase American manufacturing and create jobs," he added.
On May 18th, Jim Walters, vice president of international affairs for AHRI sent a letter to the U.S. Department of Commerce. This was in response to the Federal Register notice on the Section 232 tariffs and exclusion processes. These are the proposed processes that HVAC manufacturers would have to use to have critical products excluded from those tariffs.
Walters writes, 'The imposition of the steel and aluminum tariffs as a result of the completed Section 232 investigation, and the exclusion process described in the Federal Register notice are viewed by a substantial majority of AHRI's members as having an adverse effect on their business performance vis-a-vis the resulting higher commodity costs. Consistent with past communications to the Administration, AHRI opposes the Section 232 tariffs.'
He cited several additional member concerns with tariffs including the following:
The negative effect on their competitiveness in the United States
The suppression of more energy efficient equipment for consumers
Price volatility of basic materials and an inflationary effect on prices in the supply chain from manufacturers to' consumers
Unplanned and costly administrative adjustments to conducting business
A burdensome exclusion process. It is costly to comply with. It has produced so many requests that the Department of Commerce's ability to deal with them efficiently is questionable.
He goes on to say tariffs provide unfair advantages to imported HVAC equipment not impacted by tariffs. This will cause overall pricing to consumers to rise, and ultimately create a 'fix-it, not replace it' consumer mindset. And that will lead to 'added stress to electric grids across the country and compromise national energy efficiency goals.'
The exclusion process itself is, according to Walters, 'burdensome and overly complex.'
'Each exclusion request requires the compilation of extensive supporting information that manufacturers much submit. According to the Department of Commerce, the estimated reporting burden for the collection of information in the exclusion request should average four (4) hours per request. But this is a misleading estimate and does not account for the time taken to identify in a company's business records the pertinent data needing to be entered or attached.'
Walters adds AHRI feels the Commerce department underestimated the number of exclusion and objection requests it would have to process. He cites that as of May 18th, respondents submitted more than 11,000 such requests.
'If the four hours reporting time was valid,' he says, 'that would mean that affected industries would have spent approximately 46,000 hours or 1916 days executing requests. That is a staggering loss of productivity.'
Because of this and for several other reasons, AHRI opposes the tariffs and, in his letter to the department, requests that the Administration withdraw the Section 232 tariffs and 'explore less distortionary methods to meet the current challenges faced by U.S.-based steel and aluminum manufacturers.'