High-Performance HVAC Summit 2021: This Time It's Personal!
Mark your calendars for August 30 to September 2, plan to stay through Labor Day, and get ready for one of the best Summits yet.
Summit's unique design this year lets you personalize your experience based on your knowledge and comfort level with each topic! This year we decided to do things a little differently.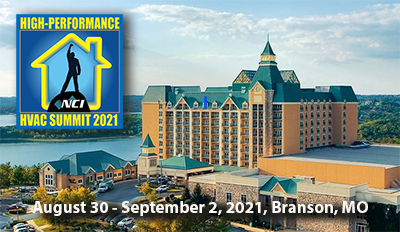 We created a breakout session approach where each topic area will have three options:
Novice – Choose this level if you're beginning to learn the specific discipline.

Practitioner

? This stage is for attendees who have begun practicing these skills and want to take it up a notch ' or need a refresher

Mastery

? Choose this option if you're already proficient in the specific area and are ready for the next level.
This new conference design lets you choose sessions based on where you are today on the path to High-Performance Contracting?.
You may need a Novice session in some areas, while in others you may be ready for Practitioner or even Mastery level training ' you choose!
There will be 18 different breakout workshops from which to choose! With so many breakouts, we recommend you bring at least three people from your company this year. To make it easier, we're offering special three-pack bundle discounts!
Breakouts include:
Session One: Airflow Diagnostics and Air Upgrade Workshops
Session Two: High-Performance Sales Workshops
Session Three: High-Performance Implementation Workshops
Session Four: High-Performance Software Workshops
Session Five: High-Performance Town Workshops
Session Six: Carbon Monoxide and Combustion Workshops.
Summit 2021 also packs in special events, including the very popular Idea Meeting and Awards Banquet.
Plus, you can look forward to NCI's traditional Welcome Reception and Celebration, Partners Reception, and Tradeshow. Bonus Partner Educational Sessions round the event out.
For all the details on the breakout sessions and speakers, as well as registration, pricing, and exceptional hotel packages, point your browser to GoToSummit.com.
Click Below for the Next Page: