Are You Using High-Performance Talk?
One of the key features of NCI membership is having access to our peer-to-peer discussion forum, which we call High-Performance Talk. This is included in your membership and exclusive only to NCI members. It's easy to use, and most importantly, provides you direct access to fellow members ' some of the best minds in the Performance-Based Contracting' industry.
The forum enables you to access all the discussion threads by email, just like our old discussion list used to (simply send your email to: hptalk@highperformancetalk.com once you're signed up). It's simple to sign up and participate.
If you aren't already set up with High-Performance Talk, please call NCI Customer Care at 800-633-7058 Monday – Friday, 8 AM – 5 PM EST.
We'll get on you the site and help with any questions.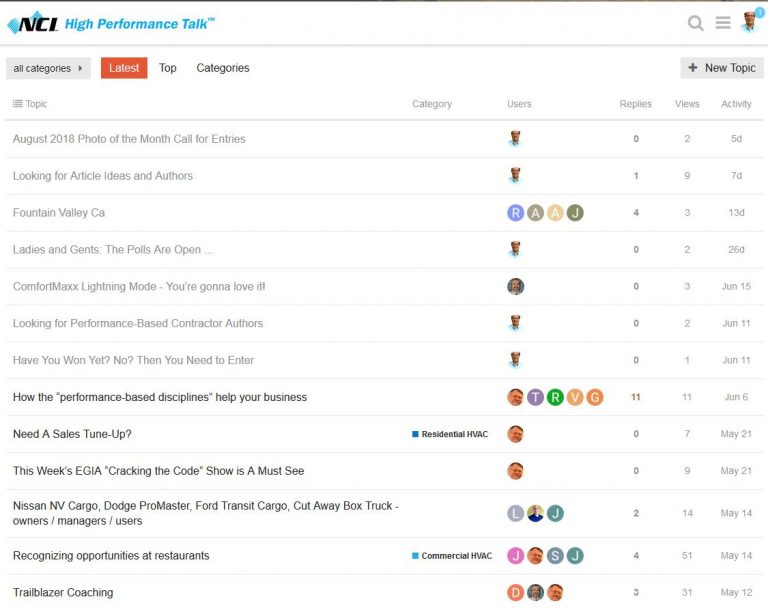 Once in, customize your profile or scan the discussion topics and jump right in.
On the main screen you can organize topics by clicking the TOP button (sorts by the most active topics at the top), by CATEGORIES (click the categories button), or stay with the default LATEST sort to see the newest topics.
You can start a new topic by clicking the NEW TOPIC button in the upper right-hand corner. Or pick one of the topics already listed and click on it. Read through the comments and if you want to contribute, feel free to do so.
Like other social media sites, you can tag people you are mentioning in your conversation by using the "@" symbol in front of their name.
You will receive an email notification every time a topic you commented on, or one you started, gets a response (if you're not actively on the site). The good news is you can then respond by email ' you don't have to log back onto the website unless you want to. You can even begin new posts by email. You can adjust your email notification frequency at any time via your settings.
To sta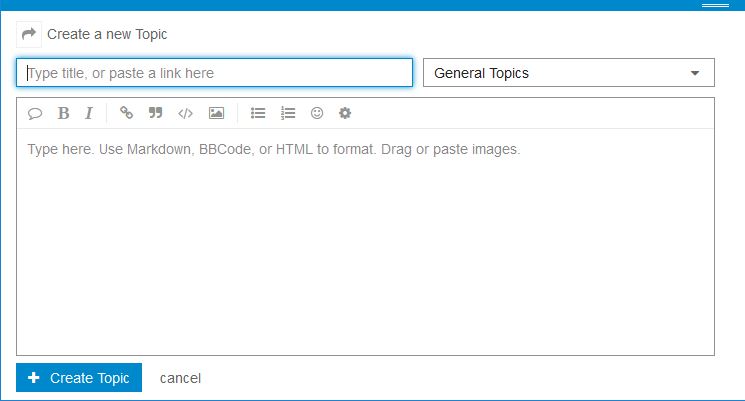 rt a new topic (shown left), just add a title to the upper left box, click on the general topics drop-down menu to assign your thread to one of the specific topic areas, then start typing. You can create bold type, underline type, embed web links, photos, and more, easily.
High-Performance Talk is mobile friendly meaning you can easily read and reply to post from your mobile phone or tablet.
This is a professional site and it does have some rules to follow. Just check the Guidelines and Usage Rules and Privacy Policies for more information.
Says Greg Vickers of GV's Heating & Cooling Inc., Glenview, IL, "High-Performance Talk lets us connect with other performance-based contractors all around the country. It allows us to help each other with business and technical issues we may be having and can even help us help customers who move to other areas find good NCI-member companies."
That's it. High-Performance Talk links you to your performance-based contracting peers like no other forum can. From CO to air to business practices, ask your follow members (and NCI knowledge experts!) for advice. Please contact our Customer Care line at 800-633-7058 to get started now.
---
Did You Know …
Did you know NCI's member support not only includes technical, but also offers sales, marketing, and business management assistance? It does. Call 800-633-7058, Monday-Friday, 8 am?5 pm ET.
Did you also know that as an NCI member, you have access to the ComfortMaxx' software which provides you advanced diagnostic abilities that let you outperform your competition? ComfortMaxx helps you to pinpoint the most cost-effective repairs, helps customers save more energy, and can increase your technicians' productivity and installation quality.
So, are you using it? If you need help getting started or have any questions, call our Customer Care line at 800-633-7058.