Written by HVAC Professionals for HVAC Professionals
Fieldpiece IR Refrigerant Leak Detector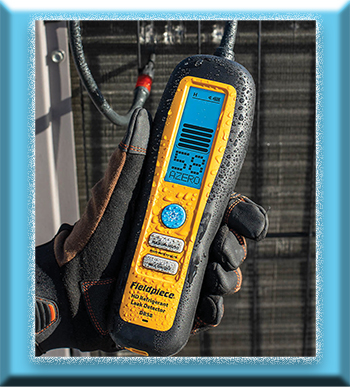 Alright, guys and gals: It's time to put the soap bubbles down and step away from the patient. Soap is for cleaning, not leak detection. The Fieldpiece DR82 is an excellent replacement for soap. It uses infrared (IR) refrigerant leak detector technology with a 10-year sensor. As always, Fieldpiece tools are very durable against our clumsy nature. Each instrument has a large backlit LCD screen.
Turn on the DR82 outside, away from the refrigerant leak, after it's gone through a warmup period. Once warmup ends, leak detection can begin. Moving the wand back and forth near the suspected area will help pinpoint that pesky leak. When the DR82 senses the leak, it will appear that you have the police rolling up on you. Don't worry about the flashing red lights with the blare — that's the DR82 telling you it found the leak.
The DR82 has four sensitivity levels: high, medium, low, and Turbo! Turbo helps with locating the harder-to-find refrigerant leaks. For those who like graphs, Fieldpiece thought of you as well: it graphically displays how high the reading is that it detected.
The good news is that using IR technology makes leak detection much faster. Also, battery replacement is unnecessary: the DR82 requires charging every 10 hours. Just remember to throw it on the charger. Full charges require at least six hours. However, the battery lasts 10 to 18 hours once fully charged. You get a nice hard case, five filter tips with gaskets, and a charging cord.
For more information, visit the Fieldpiece website at ncilink.com/DR82.
— by Casey Contreras, instructor, National Comfort Institute