Enhancing the above segments of our infrastructure will allow other parts of the U.S. economy to grow by reducing the cost of doing business via more efficient infrastructure.
Since nothing occurs in a vacuum, we must also be aware that the draw on resources required to complete these projects will increase the inflation risks already building in the economy.
Inflation's Impact on the Construction Market
Current headlines are running rampant with talk of inflation, frequently quoting the Consumer Price Index (CPI) or Producer Price Index (PPI). The rapidly rising inflation is something we cannot ignore, particularly after experiencing relatively low inflation during the prior two decades.
Because of what we have grown accustomed to, today's inflation seems so foreign and concerning for many. The good news is that inflation will ease in 2022. However, it's vital to be clear: while the rate of rise in prices will ease, we're not expecting deflation.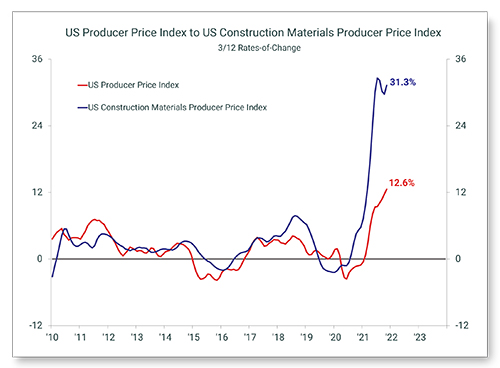 rices will be going up in 2022, but the rate of rise will lessen as we progress through the second half of the year.
When thinking about inflation, carefully select the measure of inflation most applicable to you.
The U.S. Producer Price Index measured inflation at 12.6% for the three months through November. This number is frequently reported on, making it an easy benchmark for you to use for pricing. However, let's look at a measure of inflation that is more specific to the construction industry. We see that prices for construction materials in the three months through November were up 31.3% from the same period one year prior.
Commercial construction material prices have risen faster than overall producer prices for multiple reasons, but they all boil down to economic fundamentals – supply and demand. Simply put, during the past year, demand for materials increased faster than our supply chain could supply those materials.
More Commercial Supply Chain Issues
Before COVID-19, tariffs were starting to squeeze the domestic supply of some materials such as steel. The 2020 wildfires combined with regulatory changes for lumber mills began to constrict the supply of lumber.
More recently, the supply chain constraints made highly visible by backlogged cargo ships off the coast of California reduced the availability of other materials. All of this was happening while demand was increasing.
While demand from certain segments of commercial construction, such as office buildings, declined during the past two years, demand for warehouses has increased amid the effort to accommodate the e-commerce segment of our economy.
However, the biggest draw on construction materials came from the market's residential side. Between U.S. Single-Unit Housing Starts reaching a nearly 14-year high and home remodeling projects skyrocketing due to a quarantined consumer, materials were subject to a demand squeeze.
The housing market is beginning to cool, and it is already suggesting that prices for construction materials will ease in 2022. This may mean that the top line for construction projects will look less robust.
However, the shift will likely spur on some projects that were on hold, waiting for prices to settle back down, or materials to be more readily available.
When planning for the upcoming year, be prepared for growth across many nonresidential construction segments and ensure you are using the appro­priate inflation metrics to determine real growth versus inflation.
Jackie Greene is Vice President of Economics and has served ITR Economics' (itreconomics.com) clients since 2005. She has contributed to the company's forecasts, publications, and thought leadership. Jackie works with many clients in a one-on-one capacity and delivered keynote addresses on multiple continents.