Managing by Spreadsheet
Based on our annual training plan, we put together individual spreadsheets for each employee that shows their preliminary training schedule and how much the company plans to invest in them.
The spreadsheets also show the training we need the tech to have, the timeframe it needs to be completed, the cost, and calculates the dollar/hour we're investing in him or her.
We then share this with the tech so they can see how the company invests in them and hopefully this helps motivate them to commit to taking and completing that training.
Training Intent Letter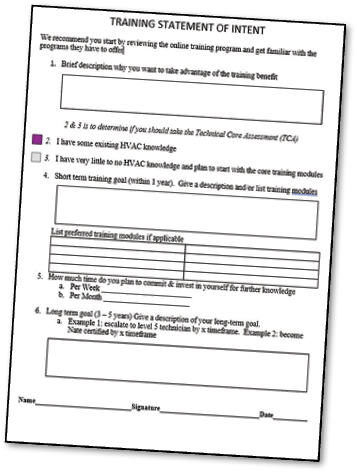 But hope is not a strategy. We really look for a commitment which is why each month our managers sit down with the individual techs to go over that spreadsheet (which includes assigned online training) and discuss where they are and why.
Once a year, we have each field employee fill out a training intent form with a short description of what they want to accomplish, how much time they plan to spend per week/month studying the online training, and why.
Once they accomplish their training intent, we have them fill out another one. This helps them from staying stagnant.
Each month our techs sit with their managers and go over what they learned, what additional work they need to finish, and what their plan is. We use the Training Intent letter to monitor and coach the employee's progress.
As you can see, we spend a great deal of money and time in training our team. We think this is vital to our employee's success as well as the success of our company. The result is that many of our clients tell us we have a great reputation, which is a major reason they decided to do business with us.
Interestingly, in the past few years, we have had several potential hires say they came to us because they saw our online reviews and/or said we have a great reputation. I'd like to say training has a lot to do with it. Our vision is to be the HVAC company and employer of choice in our area by the end of 2020.
We're getting closer!
Rob Basnett is the president and co-owner of Basnett Plumbing, Heating, and Air Conditioning in Littleton, MA. He and his wife, Lori, started the business in 1987. The company is the recipient of many recognitions from the industry and NCI.