Over the years we've learned that just selling a new furnace and air conditioner doesn't mean we provide customers the efficiency the system is designed to deliver. There are many factors and existing design conditions that stand in the way of having a new system perform at its rated capacity. In fact, we find that most new systems end up operating at 50% of rated capacity. That is just not acceptable.
For our company, this is the key reason we've adopted Performance-Based Contracting' as the way we want to do business. Our partnership with the National Comfort Institute, Inc. (NCI) not only helped us train and certify our field workforce in high performance HVAC systems, it also helped change how we managed our company by showing us how to implement Performance-Based Contracting into our culture.
It was a slow process. The first step was with our service department. Our goal was to certify all our technicians in residential system performance and then complete their training on how combustion works. This truly was an enlightening experience.
Using HeatMaxx' and CoolMaxx?
As a team we had to figure out how to explain to customers why our new installation already needed revisions to ensure peak performance. We began using NCI's HeatMaxx' and CoolMaxx' forms, tailoring them for our G-Force Team. Based on hours of testing furnaces in our own shop we began to redesign our installations. We changed all of our return boots from 1′ filter racks to 4′ filter racks; we also designed a return air box with a filter drawer to accommodate 4′ filters properly sized for the air flow. Eventually we made it mandatory to install a 4′ filter on every residential replacement system installed.
By using HeatMaxx and CoolMaxx forms on all our maintenance and demand service calls, we learned how important proper air flow is to ensure comfort, reliability, and efficiency. For years we would install a new system but still have an unhappy customer, because all we did was replace their equipment. Once we began measuring performance, we could determine real efficiency and fix the deficiencies. We also realized how many systems were either over or under charged with refrigerant — all due to poor air flow caused by ductwork issues. It became evident how many component failures were a direct result of poor airflow.
Understanding the impact of combustion performance truly opened our technician's eyes. We became a better company, one that better understood the combustion process and carbon monoxide safety.
Being a performance-based contractor doesn't happen overnight — it's a culture change that must be embraced by your service team. Our service department meets weekly and we still focus on HeatMaxx, CoolMaxx, and combustion performance. After our technicians began the transformation, we began working with our Residential replacement and installation teams.
Commissioning
At Getzschman, we feel if we sell high efficiency systems, they need to perform as efficiently as possible. However, until we began commissioning replacements, we really weren't being honest with our customers. We were like every other contractor — just selling furnaces and air conditioners.
Today with commissioning we set up each replacement to deliver optimum efficiency from both the equipment and distribution system. This requires us to design a system with proper air flow and a safe and clean combustion process. It is adjusted to operate at peak efficiency.
Both processes are necessary to provide top performance from the heating and cooling system. This requires more than changing equipment. You must be prepared to look at the entire system including equipment calibration, supply, return, filtration, and total distribution.
G-Verify
We call our commissioning process G-VERIFY. We begin by installing static pressure ports. This allows us to measure supply and return duct static pressure, filter pressure drop, evaporator coil pressure drop, and total static pressure.
After we take our static pressure readings, we determine delivered airflow. We then take supply air and return air temperature readings, determine the temperature difference, and then calculate actual capacity versus rated capacity. With these calculations we can begin to make final adjustments to the installation, either on the airflow side or the equipment capacity side.
A properly calibrated system is not only more efficient, but it's quieter, will last longer, and have less major component failures. Our G-VERIFY process t also gives us an opportunity to answer customer questions and to review the installation one more time to ensure it meets our installation guidelines and safety standards. Since initiating this process our call backs have drastically decreased. Our customers have the peace of mind knowing their system is operating with proper airflow and at peak efficiency. G-VERIFY ENSURES A QUALITY INSTALLATION.
Still Not Perfect
As we focused more on providing excellence, we found we were still falling short. We really hadn't embraced this concept in all our departments. I am very confident with G-VERIFY — our replacements were exceeding customer expectations. But I knew we weren't providing that same focus to installations in our new home department. Providing performance excellence must be a total focus. You must reinforce it in all departments each day to succeed.
For years we used rules of thumb: 35 Btu's /sq.ft. for heating and 25 Btu's /sq.ft. for cooling. This usually provided a very safe but usually oversized heating and cooling system that would almost always result in hot and cold spot complaints in the home.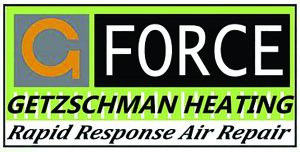 Today we use Manual J and perform a load calculation — including heat loss and heat gain — on the entire home. With the information from Manual J, not only do you know the loss and gain of each room, you also know the required airflow. This allows you to begin sizing duct systems accordingly.
We were taught the industry standard for duct sizing, which is still used by many contractors today. The standard calls for sizing the duct system at .10 inches of friction per 100′ of duct. It calls for all heat runs to be 6 inches in diameter, and using a wall cavity, to provide 125 cfm of return air using a 14 x 6 grille. However, once you learn and understand airflow principals it's easy to see why there are so many undersized duct systems and why so many heating and cooling systems fail to meet homeowners' expectations.
Continuous Improvements
At Getzschman's Heating, we began to look at all aspects of the system including equipment, zoning, controls, the distribution system — including the quality of registers and grilles — to ensure we deliver real comfort to each room or zone of the home. We took time to investigate ductwork. We studied takeoffs, the different design of boots, and the spacing between takeoffs on the duct system. By reviewing design criteria for the many fittings in a system, as well as the number of outlets serving a system, it became clear our duct sizing had to change. In fact, in almost all cases designs called for increases in duct size to ensure proper airflow.
On the return side we began using floor grilles for returns. We sized return drops for the proper static pressure and we improved our filtration systems as well. Lastly, we began to add turn vanes in our return air boots. As these improvements began to pay off, customers experienced quieter, more comfortable, and more efficient systems. In other words, they were happier.
The real question, however, remained how much improvement we really made? Were we delivering system capacity, and did we have the proper airflow in each room?
Going Forward
The only way to truly determine if our installation performed at peak efficiency was to measure. We had to G-VERIFY and balance our systems. Now this is a common practice. For us it provides the homeowner with the peace of mind that their system is operating as designed. It means providing excellent comfort to each room in their home.
Today our focus is on making sure every system we service, replace, or install new, operates as efficiently as possible. We continue to constantly train and reinforce the residential system performance process and combustion process to our entire team. It truly does separate us from our competition. This would have never been possible without the tools and support we receive from our partners at National Comfort Institute. In our industry I always hear contractors say they are looking for that silver bullet. In my opinion the residential system performance process is as close to a silver bullet as you will ever get.
Scott Getzschman is co-owner of Getzschman Heating LLC in Fremont, NE. Getzschman currently employs 55 people who are focused on providing customers with safe heating and cooling systems operating at optimum efficiency and as close to the factory settings as possible. The company was featured in the High-Performance HVAC Today April Spotlight. Getzschman also won the prestigious Medium Contractor of the Year Award from National Comfort Institute. He can be reached at scottg@getzschman.com.
HeatMaxx' and CoolMaxx? Reports
HeatMaxx' and CoolMaxx' are exclusive NCI membership service programs. They allow technicians to check approximate BTU output of a heating or cooling system in less than 15 minutes. By measuring static pressure and temperature you can add a system performance evaluation to your service calls or start-ups.
The HeatMaxx and CoolMaxx test reports provide you with the ability to offer customers an initial evaluation of how their heating and cooling systems perform compared to how they were designed to perform. Technicians gather important test data, complete the report, and present the information so customers can understand that better system performance and efficiency is available to them.
To see an article on how to do the calculations of a HeatMaxx test, just click here.