Where to Start?
Here at Tetra Mechanical, our design strategy begins during the sales call. Our service technicians test, measure, and collect as much data as possible. Data includes pictures, system measurements, and whether the system is a planned replacement. We then use National Comfort Institute's (NCI) ComfortMaxx™ or AirMaxx™ software to understand how ductwork is performing and what the equipment Btus are.
Our team then looks at the ducting situation in all rooms, grill types and sizes, exhaust fans with total cfm, insulation, fenestration type and size, and the electrical panel. We also include any equipment model numbers. Other data includes whether the equipment uses propane, natural gas, or electricity for heating.
Don't forget to include the exhaust fans. Those fans remove air. That air must be made up. It can be pulled from ceiling light fixtures, the flue in the chimney, the furnace, or the water heater. The tighter the home, the more prevalent it becomes. Consider that you're building a potential health problem. I have fixed dozens of systems with this issue.
Once we have all that information, our sales team gets the homeowner involved by discussing dust issues, noise problems, comfort level expectations, and power consumption concerns. NCI's Sales class with David Holt helped us in this area.
For example, we have one client who wants his home temperature set at 63°F during sleeping hours (5 am to 12:30 pm), which means that system needs to be custom designed and built. Custom design is what Tetra is all about.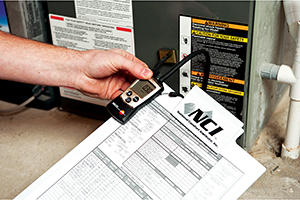 When laying out the duct system, we use a program called Bluebeam Revu, which allows us to do overlays or just about anything else. For a quick snapshot, we use EDS HVAC Load Calculation software to give insight into what a load calculation would look like for the home. Then we select equipment and accessories based on the customers' desires.
Training Makes Our Work Better
Because we regularly train with National Comfort Institute (NCI), I believe it is hard to do an installation wrong. Because of NCI duct renovation and system performance training, we know NOT to take shortcuts!
However, sometimes there are no options, and you face doing something that's not optimal. That is when we know we are going above and beyond because our belief is to do everything possible to find a proper solution.
We try to have everything laid out and planned. It's tough fighting the box swappers who low-ball prices and take shortcuts. I see and get paid to fix the problem after those box swappers come and go.
Once, I was asked to go into a home that had seven total HVAC systems. They shined like new pennies! Two did not cool at all; their compressors were damaged. The reason was poor duct design. All the other equipment had furnace troubles, and one had a fan literally coming apart.
Within an hour of sending in my report, I found myself talking to someone's lawyer. Shortcuts don't do your reputation any good, nor are they good for the equipment or the power grid.
Lord Kelvin said, "if you cannot measure it, you can not improve it." He also said, "…when you can measure what you are speaking about, and express it in numbers, you know something about it; but when you cannot measure it, when you cannot express it in numbers, your knowledge is of a meagre and unsatisfactory kind."
I had the numbers; I did the math as Lord Kelvin taught. So when I spoke, I knew I was 100% correct.
We stay out of defense mode by being honest and showing customers all their options based on science and measurements. We show them the test results from AirMaxx or ComfortMaxx. That goes a long way, especially after you practice explaining it two or three dozen times to your dog or whoever will listen.
Kent Donnelly owns Tetra Mechanical, a $3.5 million HVAC contracting firm in Simi Valley, CA. This High-Performance HVAC contracting firm serves both commercial and residential air conditioning markets. If you'd like to learn more about Kent and his company, read their Contractor Spotlight here: ncilink.com/tetra. Questions? You can reach out to him at ncilink.com/ContactMe.