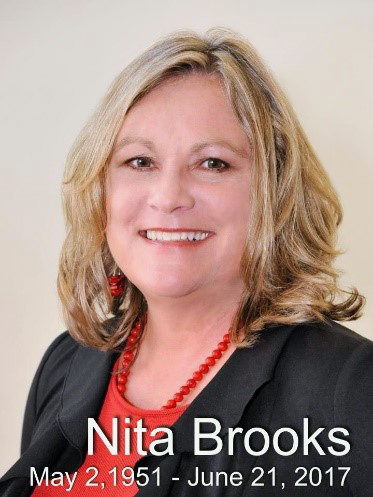 On the first day of summer 2017, Nita Brooks died of cancer. On that day, National Comfort Institute, Inc. (NCI) lost an important team player, Skip Brooks lost his wonderful wife, Angie Doyle lost her mom, and Nita's many acquaintances across the country lost a great friend.
Nita began her business career in Fort Worth, TX with Purina Mills, Inc. back in the late 1970s. She worked her way up to becoming a controller, where her primary focus was on the administration, development, and support of business processes within the plant. Her goal was to accurately report company profitability while promoting ethical business practices.
While at Purina, Nita gained tons of business and accounting experience and dedicated herself to those she served. A significant promotion at Purina moved the family from Texas to Tennessee. Her husband, Skip, joined the Lee Company, one of the largest heating and air conditioning contracting companies in the area.
Joining the HVAC Industry
In 2000, Nita herself began working in the HVAC industry after joining Contractor's Success Group (CSG), an organization dedicated to improving the business practices of heating and air conditioning contractors throughout North America. That business went through a few ownership and name changes along the way, but Nita was one of the constants throughout.
In 2008, National Comfort Institute, Inc. purchased International Service Leadership (CSG's successor) and that team became NCI's 'business development division.'
Nita was happily married to a man involved in the HVAC industry. Because of that, she provided extra insight into some of the business frustrations a contractor faces. Her passion was to help contractors handle these challenges with the support of systems, business practices, training, and solutions to make their lives easier.
In 2011, she was elected president of a national trade association called Women in HVACR (WHVACR). She really enjoyed serving the association dedicated to addressing the unique needs of women involved in a male-dominated industry.
Julie Decker, the current WHVACR president, said this when she heard the news of Nita's passing: 'Her legacy and impact to our organization will be remembered. She provided great leadership to many. She will be missed.'
Patti Ellingson, another former WHVACR president, said 'My heart is breaking today. I cannot say enough about this wonderful woman, Nita Brooks. She was a friend and mentor and leader to many within the HVACR industry. As the WHVACR President in 2011, she fostered excitement and growth within the organization that continues today. She will be missed.'
Nita actively served as a member of the association's advisory board until her passing.
I joined NCI in 2011 and that's when I met Nita and her sidekick, Rosa Lewis. As part of the NCI team, Nita, Rosa, our friend, John Garofalo, and I loved working together on projects, conferences, and training programs to help our contractor-customers improve their business. We were a really great team.
The Cancer Story
Unfortunately, everyone on that all-star team has a cancer story to tell.
When I first joined NCI, Rosa was actively battling cancer. Recently, Rosa told me that Nita literally saved her life. She said Nita 'stayed on her' to make doctor appointments (Rosa's dedication to her work often led her to cancel appointments at the last minute to complete a project for a contractor).
In 2010, Nashville had a 1000-year flood that destroyed NCI's offices. Nita and Rosa worked from their homes until NCI found new office space. Still, Nita tracked Rosa's upcoming doctor and dentist appointments so she could remind Rosa to go.
When Rosa told Nita she was too busy to go to a particular doctor's appointment during that transitional time, Nita told her she would drive the 63 miles from Lebanon (northeast of Nashville where she and Skip lived) to Fairview (southwest of Nashville where Rosa and her husband, Dale, live) and drag her to the doctor if she had to. Rosa told her friend she would go to the doctor appointment and that's when Rosa learned she had cancer.
We're glad to report that Rosa's cancer battle, while very difficult at times, was successful.
In 2013, our co-worker, John Garofalo, was diagnosed with lung cancer. During his battle, John even helped Nita's son-in-law walk through his own cancer fight. John battled long and hard but lost the war a little over a year ago. He worked hard, loved the industry, and worked almost up to the day he died on June 18, 2016.
Also in 2016, my wife, Kelly, beat her breast cancer diagnosis, I'm very happy to say, through surgery — without the need for chemo or radiation. What a blessing!
And, cancer is the reason Nita is no longer with us.
I really hate cancer. It has taken way too many family members, co-workers, and friends long before their time.
If Nita were talking to each of us right now, she'd say EARLY DETECTION SAVES LIVES! Get screened and stay on top of anything that is out of place in your body.
Thoughts about Nita
NCI CEO Dominick Guarino recently wrote this message about Nita:
'A dear member of the NCI family, Nita Brooks lost her fight with cancer, and has left this earth for a better place. She will be sorely missed.

'Nita was a very special person in so many ways. Her competence in business was stellar, but beneath the surface she was so much more. She exuded her desire to serve and to be part of a team doing important work in everything she did. In every planning meeting and strategy session, her enthusiasm was infectious.

'I had the privilege of working closely with Nita for many years following our acquisition of ISL. When I first met Nita, I noticed that she was somewhat defensive and mistrustful of the change that was occurring during the transition. While she was never disrespectful in any way, I could sense she was holding back what she was really thinking.

'As we got to know each other, she started to let those defenses down and I started to discover an amazing, thoughtful, and talented person in Nita. I later learned she built those defenses due to a previous employer who made her a scapegoat for another individual's transgressions.

'Once she realized we had her back, and we weren't those kind of people, an amazing transformation took place. She became very excited about her role, and about NCI's mission. She began contributing idea after idea, and never held back with her opinions, positive or negative, about our decisions and direction.

'It was so amazing to witness how this wonderful person who had retreated from her natural leadership persona, becoming a very reserved, cautious individual, was able to break out of that shell and become a vibrant, enthusiastic leader once again.

'Over the years Nita contributed in many ways to NCI's success. We spent countless hours working together rewriting original ISL courses and manuals to reflect NCI's philosophies and the performance-based approach.

'I could always count on Nita, right up to her last days, to plow through even the most difficult project and get it done ' fast! She was an amazing detail person and our ISL historian. She could almost instantly put her finger on any document, manual, or presentation created at ISL. We often affectionately called her our walking encyclopedia and librarian!

'Nita, you are so missed. They are lucky to have you in heaven! Know we will never forget you. May the angels guide you home into the Lord's arms; may He bless the people you've touched, and those you loved here on this earth.

'Godspeed! Love you Nita!?
Like John Garofalo did last year, Nita worked until she just couldn't. Skip told me she literally crawled up the stairs when the cancer treatments weakened her to get to the office in her home so she could work on another online training program. That's true dedication.
I'm really going to miss my friend. I know her family and friends will really miss her, too.
Rest in peace, Nita. I'll see you again in the future as we dance on heaven's streets of gold together!