As I write this column, it's a gorgeous Fall day here in Cleveland. The sun is out, the temperatures are comfortable, and there is a fragrance in the air that marks the season change.
In the midst of all this, the first presidential debate is looming, the country remains very divided, and the COVID-19 pandemic is still impacting the public in general, small businesses in particular.
But, on such a pretty Fall day, it seems like a shame to paint the world in colors of doom and gloom. Especially since so many HVAC contractors that I have talked to recently have made the decision NOT to participate in all the sourness. Instead, they are working hard to find ways to better serve their customers. Take for example the folks at Albemarle Heating.
Many of them are using their entrepreneurial spirit to get creative in how they approach their brand and market their products and services. Others are taking advantage of the trend for online live seminars, webinars, and conferences to learn more about how to operate successfully in a COVID world.
Most are excited about what they are doing and it shows. They say their numbers are up ' both in terms of sales and gross profits. Current industry shipment figures bear this out.
Peer-to-Peer Networking
Others turn to their peers for advice, ideas, and support. The most powerful aspect of any business is peer-to-peer networking which can help drive you and make you more confident in the things you do.
Some of these peer contacts come in the form of official or non-official advisory boards. Do you have an advisory board? This is a group of people who don't compete with you but who you can confide in. They can help you think outside the box and keep you on the positive side of worry and fear. I have an unofficial advisory board of contractors and industry people who I touch base with, run ideas past, and who bring information, humor, and much-needed advice into my world.
You can and should have this too.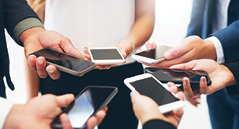 If you are a member of National Comfort Institute (NCI), there are a number of networking opportunities available. Consider all the other members of NCI, most of whom are open and willing to help if they can. Some of them participate in things like our live online training where they meet, train together, and connect.
Some members participate in our Trailblazer Coaching program which is a guided networking opportunity.
Many participate in live online events like the 2020 Virtual High-Performance HVAC Summit that provides a lot of opportunities to network and make connections ' with other contractors as well as vendors.
If you're a member of trade associations such as the Air Conditioning Contractors of America (ACCA), you have access to potential advisory boards, via their MIX? (Management Information Exchange) Group program. To learn more, just go to www.acca.org/members/mix.
Other Peer Opportunities
Also, don't forget to consider local choices for a similar type of advisory group through Lions, Rotary, city clubs, and so on.
There is even an independent national organization called The Alternative Board (thealternativeboard.com) that can help get you into a local peer advisory board.
No matter how you put together an advisory board, the result can be no-holds-barred feedback and a sounding board for your business. Add that to peer-to-peer networking, and you cannot lose.
By the way, networking also means you share and help your peers. It's a win-win any way you look at it.