Charlottesville, Virginia is a place of historical significance. It was home to two U.S. presidents, Thomas Jefferson and James Monroe. Plus, a mere 26 miles northeast, is the hometown of a third president, James Madison, in the town of Orange.
Charlottesville is also the seat of Albemarle County. Cool fact: Albemarle is named after the British Queen Consort, Charlotte of Mecklenburg-Strelitz ' wife of King George III.
Another cool fact: Albemarle County is also the namesake for Albemarle Heating and Air, Inc., a residential HVAC firm that employs around 80 people.
Founded in 1988 by Tom Kavounas, Albemarle's mission was to deliver the best job possible for a fair price. Kavounas says he believes in delivering value — NOT getting jobs at all costs.
Evolutionary Changes
In the beginning, Kavounas' company focused primarily on new construction. If you think about it, 32 years ago new homes were being built everywhere, many of them by small builders. One of Kavounas' early customers managed a small home-building firm. His name is Ralph Sachs and that company built between 25 to 30 new houses per year.
In those days, as a builder, many trades called on Sachs and tried to land contracts based on giving him the cheapest price.
'My attitude is that I'm never really interested in cheaper,' Sachs explains. 'I'm interested in better. Tom Kavounas called on me and his pitch was different. He said he couldn't necessarily do it cheaper, but he could do it better and he would guarantee that my customers would be comfortable in their new homes.
'He was the one guy I took the time to talk with. Albemarle wound up doing all my work. Over time Tom and I became very close and one thing led to another and I came to work for him in 1999 or so.'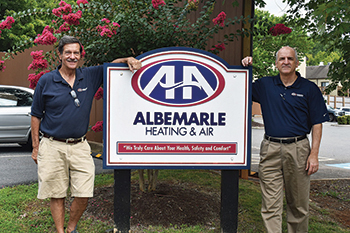 How's that for a revolutionary change? It's not every day that a home builder goes to work for an HVAC contracting firm. Sachs says as larger home builders moved into the area who focused more on price than value, Albemarle shifted its focus to custom new construction/renovation, and residential service and replacement.
Kavounas adapted to those changes by expanding both the service and replacement departments. He changed their customer base so that today more than 80% of the business is in residential service and replacement. The other 20% is custom residential new construction, renovations, and a little light commercial, according to Sachs.
Albemarle
Management Changes
When Ralph Sachs joined Albemarle, he began in a sales position. At that time, Albemarle was still heavily involved in new construction and that was Sachs' strength. His initial focus was on new construction sales. Eventually, he too began working more in replacement sales and helped to build up that side of the business.
'Around 13 or 14 years ago I left Albemarle and went to work for Lennox Industries as a territory manager. It was just time for a change for me and I left on very good terms. Albemarle became my customer, so on some level, I never really left,' Sachs explains.
'I worked for Lennox for not quite two years and found I missed the contracting side of the business. Tom Kavounas wanted me to come back, I wanted to come back, and eventually, we made that happen.'
When he rejoined Albemarle, he did so as the sales manager. Some years later, Ralph Sachs became the general manager and remains so to this day.
In 2015, Kavounas wanted to reduce his daily involvement and, according to Sachs, he sold Albemarle to his employees (it is now an Employee Stock Option Plan or ESOP). Kavounas still remains the president of the company's board of directors.
Click Below for Next Page: