Welcome to the first edition of High Performance HVAC Today!
That's right, NCI's newsletter has a new name, but more importantly it has evolved into its own website packed with continuously updated articles, blogposts, and useful information for Performance-Based Contractors?.
The Best Place to Get all Your Performance-Based Contracting News and Information
You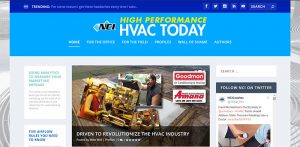 will still receive the Newsletter version of High Performance HVAC Today every month in your email, but in addition you can visit the HVACToday.com website for up-to-the minute additions, news, and more!
We think you'll like this new format that allows you to get to the information right away, without logging in or drilling down through different pages on our main site. Over the next few months you'll see this site evolve with better ways to access information about what's going on at NCI in addition to useful articles, tools, and blogs for you and your High Performance team.
10 Reasons Why Summit 2017 Is the One Event You Don't Want To Miss This Year
Lists are always a great way to get information in a fast, easy way without reading through pages of information. Here's a countdown of the top 10 reasons to not miss Summit this year:
We-Ko-Pa is a world class resort with two golf courses and its own casino. It doesn't get any better than this when it comes to perfect weather and beautiful desert scenery.
NCI's Summit is the only event in the world where you can hang out with so many like-minded contractors who are not content with just swapping and servicing boxes.
You can attend our Awards Banquet where we honor top Performance-Based Contractors. Our winners list from the past decade reads like a who's-who of the HVAC Industry ' plus they're just really great guys and gals!
Spend quality time with, and learn about new products and services from our First Class Exhibitor Partners who support you through our Member Rewards program. Who knows? You may even win a prize or two!
Learn all about Comfortmaxx? with our software product manager in one-on-one sessions where you can explore this incredible diagnostic and selling tool and get your questions answered right at the source.
Attend the Idea Meeting, share your ideas, and get dozens of great ideas from your peers in the areas of lead generation, sales, and product delivery. Who knows you just might win a cash prize and buy a round at the saloon with your new best friends!
Attend one of two one-day Post-Conference training programs where you can renew your Air or CO Certification. Or you can take our 2-day implementation class to help you finalize your plans and truly hit the ground running the day you get back from Scottsdale.
Participate in our panel discussion with 6 forward-thinking Performance-Based contractors from all over North America. They will share what has worked, what hasn't, and how they have overcome the hurdles in implementing Air Upgrades and Renovations within their companies.
Use the time at Summit to get refreshed and look at your business with new eyes. Whenever you can get away from the daily grind your creativity tends to skyrocket. It doesn't hurt to be surrounded by so many other forward thinkers.
Get an in-depth and up-front look at what NCI's Air Upgrade is all about. Learn why it can become your secret weapon for 2017 and beyond and how you can start selling and performing profitable Air Upgrades as soon as you get home.
So what are you waiting for? Reserve your seats for Summit 2017 and save hundreds of dollars by beating the Early-Bird deadline. To enroll, Click Here or call us at 800-633-7058. For more detailed information and a Summit Brochure click www.GoToSummit.com.
Six Reasons you should enroll in ComfortMaxx Air' and Get a Free walk-through Right Away

In the spirit of the Top Reasons list, if you're not already enrolled, here are six reasons to enroll in your Comfortmaxx? 'subscription today:
If you're an NCI member, your enrollment in ComfortMaxx Air? ($95/month value) is included with your dues, and I you're a Learning Excellence subscriber you get ComfortMaxx Pulse? ($145/month value) at no additional charge! Be sure to also check out our fully featured test-in/test-out ComfortMaxx Verify? as well.
When you enroll, your Customer Care Rep will contact you directly to make sure your team is properly registered, and set up with a live webinar walk through so you can get started right away.
The software is completely in the cloud, safely and efficiently storing your customers' system information where you can access it 24/7 from anywhere in the world.
It's a great tool to measure not just your customers' system performance, but also how each of your field people are doing in terms of their skills and productivity in testing and repairing systems.
Your subscription includes unlimited usage for all your qualified employees – no extra or hidden fees for upgrades or annual renewals.
ComfortMaxx Air? is perfectly designed to support your Air Upgrade lead generation and sales process. It provides credible, third-party back-up to what you're telling customers about their HVAC systems with facts, figures, and consumer-friendly reports.
Click Here to learn more about Comfortmaxx?.
Ready to get started? Call NCI Customer Care at 800-633-7058 or Click Here to get started right away.
3 Reasons Why You Should Take a Closer Look At Our Member Rewards Partners and TIPP
OK, one more list. When's the last time you looked at our Member Rewards Partners Page? Did you know that we currently have 30 Member Rewards partners ' and counting — each with their own unique products and services to help your company be more successful? In many cases, our partners are providing premium incentives to help pay for your on-going NCI training and event fees. Here are 3 reasons you should take a closer look at Member Rewards today:
You may already be buying products and services from our partners, but might not be getting the discounts and incentives you are entitled to. For assistance in enrolling in any of our partners programs, please contact NCI's Member Rewards Director, Steve McAleese or contact your Customer Care Rep at 800-633-7058. They will make sure Steve gets right back to you.
Our new Training Incentive Partners Program (TIPP), sponsored by many of our partners, now provides 50% more incentive dollars in the form of NCI Training Bucks based on your purchases with them. Training Bucks earned through TIPP can be used for any live or online training, as well as registration fees to Summit.
Explore new vendors you've never done business with (Be sure to visit their booths at Summit 2017). Who knows they might have just the product or service you've been looking for ' at a better value ' plus they support your membership. A real win-win!
See You In Scottsdale!