Over the course of the last year, with the pandemic raging hard in the Northeastern Ohio area, I've opted to not go out that much. On those rare occasions that I do, I get hit with the reality of COVID's impact on our world, and in my neighborhood.
For example, the other day I went out to run a few errands. One of my stops was to my local bank to grab a cash infusion from the ATM machine. When I got there, the building was empty.
My bank was gone.
I had just been there a few weeks previously and all was 'normal,' at least as far as I could tell.
Furthermore, across the street from the bank looms the empty hulk of a once-vibrant shopping mall that fell onto hard times (pre-pandemic) and many of the stores and restaurants had closed up.
Today, it too is just an empty shell. Up and down the main drag I saw how many stores and small businesses were shuttered and dark. I felt like I was in an old Twilight Zone episode.
The hits from the pandemic just keep on coming. All across the country commercial buildings, schools, libraries, and so many businesses are simply no longer operating. Either they have fallen by the wayside or have transitioned to a digital/online business model.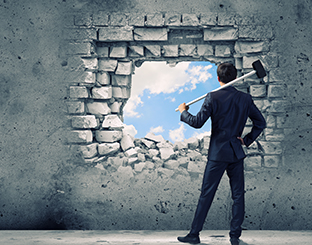 So the question is, what will happen to all those empty buildings?
Re-purposing Gives HVAC Contractors New Purpose
The good news is that hits like this hardly ever kills the American entrepreneurial spirit. In Cleveland, for example, some building owners are renovating structures to better accommodate the new rules for social distancing and safety.
Other buildings are being taken over for things like community kitchens to help local restaurants meet the incredible new demand for delivery and pickup services. And of course, other parcels of land are being set up and used for medical overflow and vaccine delivery.
This move toward re-purposing buildings is good news. Why? Because every one of these buildings will need HVAC system renovations as well. For the High-Performance HVAC Contracting community, this is a wonderful opportunity. It requires a willingness to adapt and change.
Preparation Is Key
Like everything else in our industry, competition for this work will be fierce. Applying a performance-based approach to testing, measuring, and diagnosing airflow and comfort issues can be a huge advantage.
It doesn't matter if the buildings have all new uses or are being renovated by existing businesses looking to reopen when they can. The need for superior HVAC service and installation is growing and will continue to do so.
Don't Forget About Residential
As good as the commercial sector is, don't forget about the giant growth in residential renovation and service opportunities. With more people working from home, there is a demand for HVAC systems that operate efficiently and comfortably. Systems that provide safe indoor environments and air quality are more important than ever.
Oh yeah, one more thing: with the COVID vaccines now beginning to circulate, many experts see our economy poised for a serious rebound later in 2021 and beyond.
So let the hits keep on coming. If you set your goals, train your team, and adapt a high-performance approach to HVAC contracting, your ability to win in this very changed environment is almost a foregone conclusion.