Are you having a hard time making performance testing part of your company's service calls and installations?
Here are some simple steps that will help get you on the path to high performance.
Step 1 – Install test ports on every system your team touches. Installing test ports is a very simple process, and after a few times, should take less than five minutes. Essentially you drill four 3/8-in. ports using a bullet-tip drill bit. This makes a smooth round hole so you can easily insert and remove a test port plug.
Make sure your service and maintenance techs install test ports on every system they service. Salespeople should do the same on every sales call (with the customer's permission). Installers should install these ports during the installation process when everything is wide open. Click Here or go to ncilink.com/SPTest to download free NCI test port installation and test procedures.
Step 2 – Make sure every service tech, salesperson, and installer has a manometer with static pressure tips – and knows where to test and what to expect.
Digital manometers have become more reliable and less expensive than ever. A kit that includes everything you need costs around $200.
Step 3 – Teach your team to read blower charts to interpret airflow from Total External Static Pressure (TESP). Today you have more access than ever to manufacturer blower charts. They are included in most installation instructions, and can typically be found online.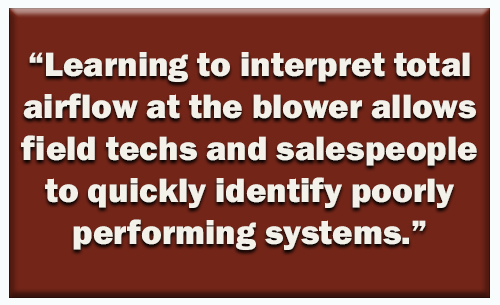 By learning to interpret total airflow at the blower, your field techs and salespeople can quickly identify poorly performing systems. This information, coupled with the four static pressure readings, will help them pinpoint the causes of low airflow, and identify solutions.
Step 4 – Take the time to educate your team on how airflow impacts performance — and how to improve every system they come into contact with.
When airflow is sufficient for the equipment to deliver it's design capacity, your systems will outperform those installed and serviced by your competition.
Of course there is so much more to delivered performance. But implementing these four simple steps and making them part of your company culture will give you the strong footing you'll need to deliver better performing systems.
Your next step is to get your team on a training path to continually improve their testing and diagnostic skills. NCI delivers over 150 classes each year nationwide. If you can't find a class near you right away, start by enrolling your field people and salespeople in NCI's online "Airflow Testing & Diagnostics" class.
This eight-hour self-directed course is brimming with content and procedures to help your techs deliver and maintain high-performance HVAC systems. For a limited time, you can register at ncilink.com/ATD-OLReg, and use the coupon code Path2022 to save 30% per student!
I hope you decide to put your HVAC business on the path to High-Performance. The rewards are many, including happier customers, well-trained and happier employees, and higher profits for your company.