Some Challenges on the Horizon
Several factors will have an impact on the commercial HVAC marketplace. In a study by Market Research Future, these factors include:
The high price of installation and maintenance of commercial HVAC equipment. A lot of this has to do with supply chain issues, workforce shortages, and, subsequently, component shortages
Energy consumption concerns and a more proactive push toward green energy initiatives
Increased competition from non-traditional HVAC actors
Supply chain issues caused by COVID-19 shutdowns are still impacting the commercial marketplace.
Another challenge is inflation. Media outlets like CNBC say the Federal Reserve's raising interest rates is working, and inflation is slowing down. Greg McBride, the chief analyst at Bankrate, says, "with the year-over-year rate of inflation still above 7%, we have to check our expectations at the door" when it comes to rate increases, and therefore inflation, ending anytime soon."
In the CNBC report, McBride adds that it might take all of 2023 before inflation returns to the Federal Reserve's target 2% rate.
Continued Push For Energy Regulations
It's no secret that as of this month (January 2023), new Department of Energy (DOE) regulations are in effect. This increases the minimum efficiencies of commercial packaged air conditioning and heat pump equipment by 15%. This is the second efficiency increase on commercial equipment in the last five years. This means that current equipment needs to be retested or re-rated.
These changes are all part of DOE's ongoing push to reduce overall U.S. energy consumption.
The new DOE regulations will first impact equipment manufacturers who have been hard at work changing their testing procedures and designing products that will comply. The changes will increase their costs, which means they will increase your costs. Ultimately raising the price commercial building owners and managers have to pay to upgrade their systems.
There has been plenty written about these regulations over the last year. Many manufacturers have published information on how they are complying and what this means to their customers. Suffice it to say these changes will require continued training for HVAC contractors as field testing and measuring will change.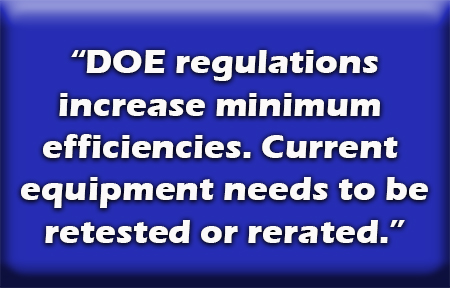 The good news is that High-Performance HVAC contractors are in the cat-birds seat. They are already in a position to help building owners and managers reduce energy consumption. How? By testing, measuring, and then diagnosing issues and creating solutions that can decrease energy consumption while increasing comfort and indoor air quality.
Net Zero and Other Sustainable Goals
What I'm talking about here is the Net-Zero Building initiative. On the energy.gov website, they describe zero-energy buildings as those that are "designed and built to consume as little energy as possible. When a renewable source of energy is added to these buildings, they can produce enough energy to meet or exceed their requirements to run."
Alongside net-zero are the provisions of the Paris Climate Agreement, which the Biden Administration rejoined by executive order on February 19th, 2021. This international agreement has greenhouse gas emission, decarbonization, electrification, and low GWP (global warming potential) refrigerant requirements to be achieved by 2030.
The DOE has really increased their initiative to achieve these goals as a result of climate change. This requires using building materials, designs, and construction practices that increase initial costs and lead times of projects — not only in the construction world, but in the commercial HVAC world as well.
Net-Zero as defined by the DOE, is a goal and faces many obstacles. Many solutions involve using efficient products and materials that, up until now, didn't consider the impact of airflow on efficiency.
Technology plays a part in all of this as well. Studies by companies like Johnson Controls show that commercial organizations plan to increase investments in higher energy efficient products. This includes smart building control technologies (including those using artificial intelligence to help with monitoring), and more.
Click Below for the Next Page: