Unfortunately, the house didn't have an existing floorplan for us to refer to. So, we used Elite Software's RHVAC9 program to draw floorplans based on our physical measurement of the home. We also used it to perform the heat load estimates and calculate airflow requirements. (Now they have a floorplan!)
In the past, we had mostly used static pressure testing for troubleshooting. We didn't fully comprehend how everything worked together until Brian took the NCI Duct Optimization and Air Balancing classes. After all our training, static pressure testing is NOW part of our daily routine.
The result is we now knew how to properly correct the ductwork, all the undersized returns, and so on.
Once all the measurements were completed, we crunched the numbers and presented the Nichleys with two options: they could spend $20k to try and fix what was there, or for $60k they could get a complete renovation.
Note that before this project, we had never presented a proposal that was that big in scope on a residential retrofit project. It was also the first proposal that had ALL the details documented ' both the design work and the potential outcome. Plus, we offered a great financing package to them.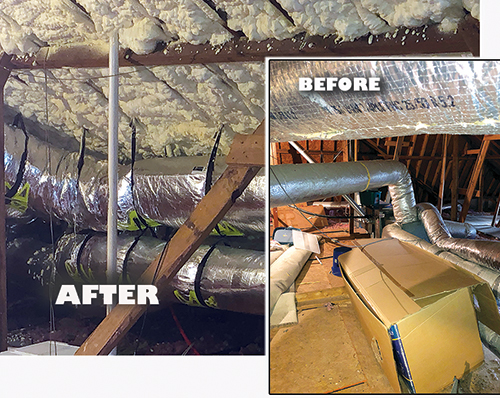 Making the Best Decision
Michael Nichley is a financial advisor. He understood what the numbers meant right away.
The first option was to fix the existing ductwork, replace the non-functioning air conditioning unit, and do other repairs to try and get the existing system to perform better. The cost was around $20,000.
The second option was a complete renovation, replacing all the equipment and visible ductwork with ones that are properly sized and customized to meet the owners' requirements. That price was more than $60,000 and we guaranteed we could eliminate their comfort issues.
In Michael's words, 'The numbers that Brian Wright and David Small shared with me made sense. And with the financing Crossway made available, I could afford to do the job right, which is what my goal always was. So, we opted for the full renovation, worked with Crossway to get the price down to around $56,000, and they went about the work.'
'Their approach was the most detailed and scientific process I have ever seen with any contracting firm. They listened to what we wanted, they went over my options with me, and even made allowances in their calculations for the new windows and attic insulation I was planning to install!?
The End Result
We solved the comfort and air distribution issues by dividing the home into three zones:
Downstairs living area/kitchen
Downstairs master suite
Upstairs bedroom and playroom.
We replaced the three existing units with Amana two-stage 18 SEER communicating outdoor units and 96% efficient, two-stage gas furnaces with ECM blowers. We redid all the ductwork using R-8 flexible ducts connected to really long extended plenums ' designed with the 'static regain' method. All flexible ducts were properly supported using duct saddles.
We added new vent piping, new refrigerant lines, drain pans, condensate drain piping, humidity controls, as well as April Aire 1510 extended media high-efficiency filters and Reme-Halo air purifiers in all systems.
The final touch was the Honeywell Pro Wi-Fi thermostats provided for each zone.
When we finished the renovation, we commissioned all three systems by testing airflow with an air balance hood, took all the system static pressure and other measurements, and balanced the system to assure the Nichleys it was delivering what we promised them.
The furnaces were commissioned using a Bacharach combustion analyzer and NCI protocol. We use the iManifold' tools and reports as part of our High-Performance Contracting business model. This allows us to show our customers the before/after performance results ' to help them see in real numbers the value for which they have paid.
By the way, the result is a new system performing at .52-in. W.C. of total static pressure!
Crossway Project as A Template
The Nichley home was a template for us to truly use our training in a real setting. The experience taught us how to quote the work, price it, do the work, and deliver a quality end-product. It was a business decision to invest in new processes and tools to take our company AND our customers to a new level.
It's the NCI approach to High-Performance contracting that has helped us in all this. And the best thing is that we find ourselves being so excited about it! This process has helped to reinvigorate us about our work, our thirst for more knowledge, and our creativity. Contracting is fun again. And, we are progressively 'carving out a niche' in this kind of work in our market.