In May 2020 NCI Continues Offering Distance Learning
During these trying times of social isolation, NCI has been hard at work to create a whole new Distance Learning program. You can now send your team for training without them having to leave the house!
NCI offers several types of classes in this program, all of which count toward NATE continuing education credits.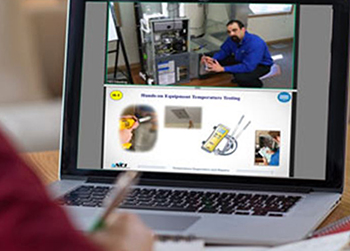 The two types of classes NCI offers are Self-directed and Live-online.
Self-directed class. This is currently our exclusive Airflow Testing & Diagnostics Online. It has approximately eight hours of comprehensive training available to you 24/7/365.
Check out the Airflow Testing and Diagnostics course, for example, by clicking ncilink.com/SelfDirected.
Live, Online classes, have two half-day sections. For example, our Residential Air-side Online, Commercial Air-side Online, and CO Recertification classes each consist of two four-hour blocks of training with 10-minute breaks every hour.
Important Note: To participate in NCI Online recertification classes, you must already be NCI certified. As a member, you qualify for a discount on this training, and you can apply NCI Bucks, or earn them.
Furthermore, NCI now offers its new Explore HVAC Field Performance (ncilink.com/HVACFieldPerfOnline) class in the Live, Online category as well.
For more information on exactly what Distance Learning Courses are available to you, just call the NCI Customer Care HelpLine at 800-633-7058.