'What Do You Mean We're Low on Airflow?'
? Matthew Michel, Elite Balance, Suamico, WI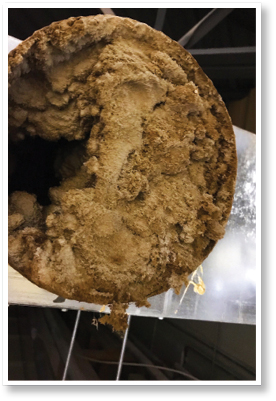 After installing a new exhaust fan on an existing duct, Matthew Michel discovered some low airflow issues. After some investigation, he knew what was happening. As he stated in his entry: 'The picture is worth a thousand words!?
Matthew Michel from Elite Balance is the May 2019 winner in the 'Bad' category of our Photo-of-the-Month contest, as voted on by the subscribers to the High-Performance HVAC Today magazine and visitors to the website.
He will receive a $50 gift card.
You can too ' submissions are always welcome. If you'd like to submit
a photo for consideration in our Photo-of-the-Month contest,'go to
ncilink.com/POMSubmit and fill out the information as requested.
THE JUNE CONTEST OPENS ON MAY 13, 2019.
That gives you plenty of time to submit something in any of our three categories: The Good, The Bad, WTH (What The Heck).