May the G-Force Be with You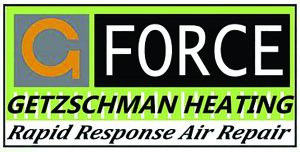 In Nebraska there is just this feeling in the air. A powerful feeling. Especially in the greater Fremont area. Some call it a force. But those in the know understand that it is more than that. It is 'The G-Force.'
The G-Force is powered by a strong family commitment to the community, one that focuses on excellence and has since 1960. You see that is the year the G-Force came into being ' sort of.
What I am talking about is Getzschman Heating, LLC, a 58-year-old commercial and residential HVAC firm that has remained a family company since Richard Getzschman started it. In 1960 Getzschman Heating was born, but it existed in other forms before then. Richard began his HVAC career working for a company called Nebraska Sheet Metal.
He eventually left that firm and joined forces with a friend and, in 1958 their company, Smith and Getzschman, made its mark on the world. In 1960 Richard left and started Getzschman Heating and Sheet Metal. Eventually he dropped the sheet metal portion of the name and the current Getzschman Heating name came into being. The company still operates a significant sheet metal operation.
Richard had four sons and three eventually joined the business. Ron Getzschman joined in 1972, his brother Scott in 1978, and youngest brother, David Getzschman, joined seven years later in 1985.
The company, which started in the garage of the Getzschman home in 1960, now operates out of two facilities. The headquarters is located in a 20,000 sq. ft. former shopping center in Fremont that Getzschman bought in 2007.
Current Overview of Getzschman Heating
Getzschman enjoyed $9.7 million in gross sales in 2017 and according to Ron Getzschman, is budgeted to do about $9.9 million in 2018. Revenues come from the commercial (50%) and residential sectors (50%).
They have 53 employees and field 16 service vehicles, six installation trucks on the residential side; 11 vehicles on the commercial side. Ron and Scott, and Roger Pannier co-own the business, with Scott focused on the residential service side. Ron handles the residential installation business, David focuses on commercial, and Roger oversees accounting.
Since the beginning, this company always put the customer and the community first. The G-Force concept is part of a marketing campaign that pushes fast and reliable service and backs it up with measurable and verifiable diagnostics.
According to Ron, this is a key differentiator that sets the company apart from its competition. This requires technicians to be highly trained in what Ron calls, 'G-Verify System Efficiency Diagnostics.'
'We have the most extensively trained, longest tenured service staff in the area. Our technicians are trained to work on all makes and models of air conditioners, furnaces, and heat pumps,' he says.
Evolving Toward A Performance-Based Approach
Ron Getzschman attributes G-Verify to their incorporating a Performance-Based Contracting' approach to their business.
'We've been focused on training and education for years and our move toward the NCI (National Comfort Institute) approach was natural.'
In fact, they kind of flowed right into NCI. Getzschman explains that his company originally joined Contractor Success Group (CSG) back in 1993 and never left throughout all the changes that occurred to that organization.
'That is what really launched our residential growth,' Getzschman explains. 'CSG specialized in business management training, including marketing. At that time, I was running our commercial department, but I dropped everything to focus on implementing what we were learning in the CSG training.
'This really helped us grow our business,' he continues. 'When we first started with CSG, our company was at $1.8 million in sales. We began to grow at about $1 million per year based on what we learned at CSG.'
Historically, CSG eventually became Service Experts. And then Lennox bought it. And then ISL bought it. And then ISL became part of NCI.
'So, we never left,' says Getzschman. 'But once NCI bought ISL, the training shifted to the technical side and that changed everything for us.'
He explains the technical training is what really enabled Getzschman to set itself apart in their markets. 'With our membership in NCI, we found ourselves always on the cutting edge.'
Implementing What They Learned
System renovation and air upgrade work on new installations, according to Getzschman, happens automatically today. 'Thanks to NCI training, we now make sure everything is done properly. Still, when we first started we struggled. It was a work in progress. We needed to do a better job of finding problems, especially in poorly sized and installed duct.
'In those early days, no one really understood the air side. The key for us was helping our Comfort Advisors understand and better communicate it to the customer.'
And that is exactly what they did.
That indeed, is the G-Force!
Because so few others in the Fremont-Omaha market area measure, test, and verify system performance, it can create a difficult sales environment. Especially if the consumer is led to believe that everything Getzschman does is voodoo. But Ron says it doesn't matter.
'You almost always have to prove what you say to customers anyway. And we can and do prove ourselves every day.'
Getzschman's G-Verify
He adds that Performance-Based contracting provides the proof not only for the customer, but for marketing as well.
'Our marketing says things that none of our competitors say. We explain how most people's HVAC systems waste 40% of their energy, even on brand new systems. Then we explain how our technicians identify inconsistencies in duct work, why we audit performance on the existing system, and if we replace that system, how it must be properly installed and commissioned.'
He says the Getzschman technicians do this on every installation. Then they recheck everything to make sure the upgrades and improvements have made a difference.
On the Getzschman website, consumers see the following 'definition' of commissioning, which is called G-Verify.
It says, The Getzschman G-Verify testing and diagnostic methods are used on Air balancing and combustion efficiency test to measure the performance characteristics of the HVAC system compared to the collected manufacturer's specifications.
On average, 40% of energy that heating and cooling systems provide is wasted. This includes brand new systems! There are three steps that must occur to assure that a system is operating at 'High Efficiency.'
Pre-installation evaluation to identify current system efficiency performance.
Develop customized system configuration to maximize efficiency.
Post installation system testing and calibration to ensure comfort, efficiency and reliability.
'Once that gets around to people in our community, competition becomes a non-issue. Plus, we conduct surveys on all our jobs. We receive reviews that rave about our technicians, especially how they explain everything and made everything work better than ever before. It is word of mouth marketing, and that just makes a tremendous difference for us."
It's A Process
So just how do you implement all this good stuff into your HVAC business? By taking little steps.
Getzschman adds, 'When it comes to Performance-Based Contracting, try to find what provides you the biggest bang for your buck. And then make that a company policy. Write down what those policies are, what you want done on every job.
'Make it part of the sales process as far as what your comfort advisor says to the customer. Then it is all about communications. It's about talking with and explaining to the customer what air upgrades are and why it benefits them.
'It is up to us to make sure customers understand what we are doing and why.'
He emphasizes that the performance process isn't something that they are done with. In fact, Ron Getzschman says they have a long way to go.
'There is always more training to do,' he says.
Change is Not Easy
The process obviously involves change and, like companies everywhere, change can be difficult. At Getzschman, implementing performance meant changing how field service and installation crews operated and interacted with customers. Ron Getzschman says some of his co-workers pushed back at first.
'You have to enforce the changes,' he says. 'If you don't, implementation won't work, processes will be inconsistent, and your customers will push back as well.'
Enforcement also means better communications from management. Ron says he meets with his installation crews every morning. They discuss issues. They also talk about the process. Together they work out the kinks.
'That is the best part. It provides buy in. If you're implementing performance, be sure to always meet and communicate with your people. Remind them that the goal is 100% customer satisfaction.'
It's All About the Customer at Getzschman
Another aspect of the Getzschman approach is their guarantee. Ron says they provide their customers a 'two-year test drive.' If anything goes wrong, Getzschman fixes it. No questions asked.
He says, 'Sure, we've had to return money to customers because something wasn't done right, or just for any reason. We've had customers who didn't like air coming out of the register, so they want us to remove the system.
'We don't complain. We give the customer their money back, and we remove the system. We've had to do that maybe six times over the last 20 years. If a customer is unhappy, you must make them happy or give them their money back.'
He adds, 'Reputation is everything. Our family name is on this business and that is something we take very seriously. So, we work hard everyday to keep our reputation high.'
Is Performance Profitable?
Ron Getzschman pondered that question for a minute. Then he said , 'We've seen steady growth on the replacement side of the business, especially in the last three or four years. I know without the performance side of the business, profits would be going backwards. It will get better as time goes on.'
He does say that the bigger issue is one of manpower. It gets harder each year for he and his brothers to find competent employees to work in both the commercial and residential arena. He believes one of the biggest problems the HVAC industry has is attracting young people.
'For decades the push has been to prepare high school kids for college. But in today's reality that option is becoming unaffordable and the jobs just aren't out there. Up until very recently no one paid attention to the solid living you can make in the trades, especially in the HVAC business,' he says.
'There does seem to be a small movement toward changing this, but not enough. No one will help us if we don't try to help ourselves. Get involved. There are programs that you can participate in to attract young people to your company.'
He says the world of Performance-Based Contracting also helps. Because now, thanks to modern test instrument and tool technology, HVAC is becoming more attractive. It is about using not only your hands, but your brain as well. And that can be the G-Force in your market.
Except you may have to rename it to better reflect your own company name.
Congratulations to Ron, Scott, Roger, and David and their entire team on being the April 2018 High Performance HVAC Today Contractor Spotlight.