Summit 2022 Is Coming. Are You Ready?
National Comfort Institute announces the return to its live, in-person event. This year it's personal. It's the first Summit in two years where the High-Performance HVAC Industry can gather in person, to learn, share, and network.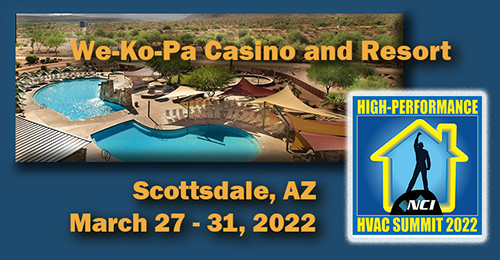 We return to the We-Ko-Pa Resort and Casino in Scottsdale, AZ from March 27-31, and are focused on helping you personalize what you learn there. In fact, you have the power to choose which knowledge level you want when you attend a breakout session. Each breakout has three levels: Novice, Practitioner, and Mastery. There are a total of 18 sessions to choose from.
Novice is for those who are just learning the high-performance discipline. Practitioner is for those who've been practicing their skills but want to take it up a notch. Mastery is for those who are proficient in the specific area but are ready to go to the next level.
Furthermore, NCI announces that you can design your teams' learning experience on where they are in their careers. For example, when it comes to carbon monoxide and combustion, your choices are:
Novice: Two Must-Do Combustion Safety Tests, taught by Tom Johnson
Practitioner: Vision Beyond Sight with Combustion Testing, taught by Jeff Sturgeon

Mastery

: Advanced Venting & Combustion Air Solutions taught by Jim Davis.
To help make decisions easier, we're offering special discounts when you bring three or more people from the same company.
Plus, there's early bird pricing (available through Feb.1, 2022), NCI membership discounts, and more. Space is limited, the sooner you register, the sooner you'll be locked into attend this game-changing HVAC event!
Summit 2022 is coming. Are you ready? For more information and to register, visit gotosummit.com. If you have any questions or need help, call our Customer Care line at 800-633-7058.
---
The January 2022 PowerPack Is Online
Happy New Year and welcome to the January 2022 PowerPack exclusively for NCI Members. This month, we feature the following:

Achieve Your Goals Through Delegation

–

Webinar

Six Steps to Achieving Your Goals

–

Online Training

The HVAC Industry Needs a Return to Craftsmanship

–

Article

Strategic Planning & SWOT Analysis with Worksheet

–

Download

Estimating R-Value Chart

–

Download

.
Some of the tools included each month may not normally be accessible with your membership subscription package. However, you can access these tools through this PowerPack portal during the current month. So get started today: ncilink.com/PwrPak.
If you have any questions, or if you are unable to access any of the tools in this program, please contact your Customer Care team at 800-633-7058.
---
NSI 6000: Become a Reseller Today
The NSI 6000 Low-Level Carbon Monoxide (CO) Monitor (ncilink.com/NSI6000Review) is more sensitive and accurate than a typical store-bought detector. You can offer real protection to your customers by bringing this life-changing monitor to every service call.
NCI announces how you can sell this life-changing product. First, you must become a reseller. This exclusive program is only for HVAC, plumbing and weatherization contractors. Homeowners, facility managers and property management personnel must purchase the NSI 6000 through an authorized reseller.
National Comfort Institute, Inc. (NCI) has stringent requirements in place for any company desiring to sell and install the NSI 6000 monitor.
This process requires candidates to either be currently NCI Combustion/CO certified or they must complete the Combustion/CO certification class. There is a five-step process for becoming a reseller. Go to ncilink.com/NSI6000 to learn more.
Once you become a reseller, NCI has prepared a video to walk you through the process of setting up your customers. The video is at ncilink.com/NSI6000Vid1.
If you have questions, or need more information anywhere in the process, you can call 800-633-7058.