The Right Tools For The Job
Every experienced field person knows the right tools can make all the difference – whether it's their hand tools or the test instruments they use in service and installation. The right instrument helps make testing consistent and efficient. It reduces second guessing and repeat testing when you feel you can't trust your readings.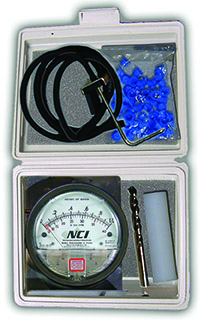 This article will introduce you to many of the specialized instruments used in High-Performance testing and diagnostics. We'll also take a look at suggested tool lists for each of your field people, both in a residential and light commercial HVAC company.
The exact instruments you buy will depend on some factors that are unique to your company. For example, your needs will vary with whether your service technicians perform full diagnostics or pass on leads from basic testing, or whether your installers start up their own systems or you have start-up techs.
Recommended Test Instruments
Analog or Digital Manometer: Liquid-'lled manometers have been around for centuries. These devices are very accurate and stay calibrated virtually forever, but they are cumbersome and can be messy to use. They're still used on commercial work, especially in stationary applications.
Other analog manometers, also known as Magnehelic? Gauges, have been around for decades. They're very durable, they hold their calibration well, and provide a direct static pressure reading through a dial gauge.
The downside is they need to be level to get accurate readings ' often dif'cult to do in an attic or crawl space. A 0-1 in. water column (WC) model is ideal for most residential and light commercial applications.
Expect to pay between $150 and $250 for a good Magnehelic? kit depending on what accessories you want. A good kit will include everything you need to drill and cap test ports and check static pressures at key places in a system.
High-quality digital manometers are also a great option. Some are extremely accurate, have multiple pressure ranges, and are very durable. Digital gauges do not need leveling ' a plus in tight spaces. A digital manometer kit costs between $150 and $250 depending on what's included. Whatever manometer you buy, make sure you have the right pressure tip, drilling accessories, and hole plugs with your gauge at all times.
Digital Hygrometer: A digital hygrometer is very handy for measuring wet bulb temperatures when testing in cooling mode to measure enthalpy. As you learn to test enthalpy change when calculating delivered BTUs, you'll 'nd accurate wet bulb measurements are critical.
Digital hygrometers typically range from $100 to $200.
NCI tests require wet-bulb readings to be recorded to the nearest tenth of a degree. Some hygrometers lack accuracy and can't be calibrated.
Several manufacturers make accurate and durable instruments that display temperature, RH, and wet-bulb temperature.
Some air multimeters have built-in high-quality humidity sensors. Be sure to look at response time when it comes to wet bulb testing ' especially across multiple locations simultaneously. For these tests you will need several fast responding hygrometers.