"Other exciting things happening here involve making sure we have the right technology and equipment to ensure our HVACR students are prepared to start their careers," he continues.
"Bill Evans successfully completed a grant to provide tools to students enrolled in Polaris heavy trades programs. This $50,000 grant from Stanley and Black and Decker provides around $400 worth of tools (including a tool bag and hand tools) to each student.
"We also have a partnership with Refrigeration Sales Corp., which allows our students to purchase required multimeter test instruments at a discount."
The Future Looks Bright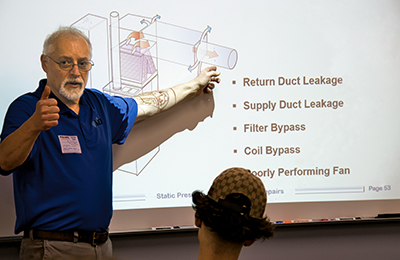 "All our students graduate from Polaris knowing how to use their tools and instruments," Reitz says. The future also includes an increased interest in Polaris HVACR students from companies like Dominion Energy, fire alarm companies, and others who need people with electrical and HVACR training. In the end, Reitz, Miller, and Evans all agree that their mission is to help create productive citizens.
Reitz concludes by saying that Polaris gives students the basics and the background to be successful. They work to help students develop a love of learning and continuing education so that they can get ahead in their careers.
"We are like the freshman-level courses in college," he says. "We encourage students to develop their skills through HVACR Industry training groups, manufacturers, and distributors so they can get to the journeyman level of skills and be certified as top professionals in this trade.
And thanks to continued support from our industry partners, our program will continue to thrive and offer our students meaningful careers in a growing profession."