Having the right tools is just one step. Again, training is vital. We try to have as many of our technicians trained and certified in CO and combustion as possible. I'd say that 70% of our company right now is trained and certified.
CO Draft Testing Has Left a Positive Mark
With training under our belts and equipped with proper tools and instruments, we implemented combustion testing on every service call, every installation, and startup.
We embraced it 100%, implemented it, and talked about it every week in our meetings. We invite our technicians to tell us what's going on, what's confusing, what's not.
Though I can't quantify the impact of CO draft testing in direct dollar terms, I can confidently say that delivered revenue is one benefit that's come from it. At T.E. Spall and Son, we now install draft modifications regularly on atmospheric draft hot water heaters.
We do this maybe 30% of the time. We include draft modifications when we change out a gas water heater. The cost is built into our water heater changeout fee.
CO draft testing has also given us a leg up in our marketplace. We are one of few organizations that test, measure, and diagnose issues and then offer customers choices. These choices are on how to keep their systems safe and improve their comfort.
Not All A Bed of Roses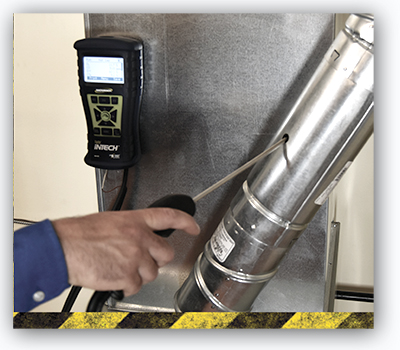 In the beginning, trying to get all our field service and installation techs to do CO draft testing was difficult. Change is hard, and we did have some resistance, especially on new installations.
My installers would say things like, "Tom, it's a brand-new system. Why do we have to combustion test it?"
I tell them the reason is that equipment is not perfect straight out of the box. We have to attach it to an existing ventilation system that may not be functioning properly. So we test and we train. We train in our small training facility and out in the field.
Another issue we faced was making sure they were doing performance tests in the field. Part of resolving that was talking about testing every week in our service meetings. We also ask our field techs questions. Reviewing their tickets is important too.
Our technicians know that if they need to call me with questions, they better have certain information. I need to know from their analysis if the issue is combustion-related. I need to know if the appliance is power vented or not.
I'll ask for information such as oxygen readings, CO readings and its action, and the draft measurements results, if applicable.
With high-efficiency inducers, there's certain information necessary to coach a tech in the right direction.
But it's by living and breathing the high-performance culture that shows people it's here to stay. It's important. They need to do it.
For us, we've been doing this long enough that it is part of our culture. Today our long-term technicians stress the importance of testing and measuring to new guys. The senior technicians are now who teach the 'why' behind why we do these things.
Click Below for the Next Page