The entire world has gone mad. The Pandemic rages, politics has everyone on edge, the economy is anything but stable. Lurking behind all that is the ever-increasing threat of your business coming under attack by cybercriminals.
Back in 2014, I wrote several articles for another publication about the HVAC Industry's vulnerabilities throughout the value chain. That's back when the biggest headlines were about hackers grabbing up millions of credit card numbers and other data from giant retailers like Walmart.
In the Walmart case, it was later discovered the breach happened because of another one ' a hacker gained access to a commercial HVAC contractor's servers and then piggy-backed through them into Walmart's servers.
The level of sophistication and brazen audacity of such attacks increases exponentially each year since writing those articles. In fact, according to the U.S. Small Business Administration (SBA) website, a fairly recent FBI Internet Crime Report showed the cost of cyber-crimes reached $2.7 billion JUST IN 2018!!!
Recent headlines are even worse. In the Wall Street Journal (July 17, 2020), the front page headline screams, Russia Blamed for Hacks Tied to Virus Work. I mean, is nothing safe?
But this threat doesn't just target to major sites and social media. Did you know that new data breaches surged by 424% last year, fueled by hackers targeting more small businesses?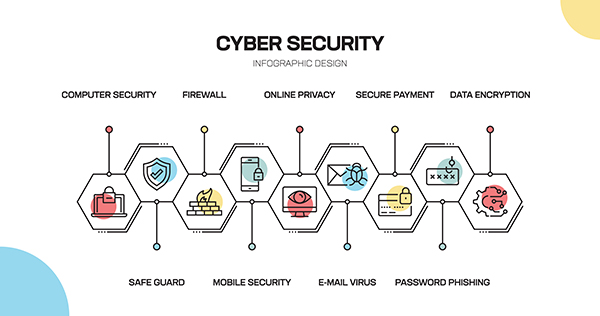 This is based on a study conducted by an organization called The Manifest, which surveyed 383 small business owners and managers who use mobile apps and/or websites to connect with their customers (ncilink.com/CyberStats).
The question is ' what have you been doing to protect your business and your customers? According to the Manifest study, only about one in five businesses admit they need to devote more resources to cybersecurity and could improve the security of customer data storage.
Don't Let Fear Stop You
The SBA article cited earlier has a number of tips on what you can do to get started. They highlight the common threats, explain how to assess your business risk, and share cybersecurity best practices. Like everything else in life, cybersecurity requires training and practice. But you must start.
One way to begin is to download a free document published by the FCC, entitled 'CyberSecurity Planning Guide'. This provides a good initial education on the subject and can help you start and/or improve your cybersecurity plan right away.
For many, cybersecurity can be overwhelming. Consider using a third-party specialist that can handle the details and keep your company security up-to-date and safe. There certainly is a cost to this, but think about the cost to you and your business if your data is compromised.
Also consider The National Cyber Security Alliance (NCSA) as a resource. It is at ncilink.com/NCSA.
Furthermore, I found a number of sites that provide tips on how to choose a cybersecurity partner. One, in particular, Tech Stack stood out (ncilink.com/techstack).
So don't let worry stop you. Take action. Now.
While you can never make your firm completely bulletproof, prevention and planning can greatly reduce your risk. A practical plan and policy will help you bounce back much faster from a data breach.