Example Engagement at the Equipment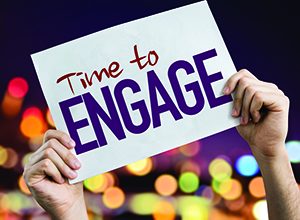 When you can easily access the furnace or air conditioning equipment, invite the customer to join you. If she has walked with you to the thermostat, and then to each room, she'll continue with you to the equipment. If she does not, for any reason, put your phone or tablet's video camera to good use and record any findings.
(Standing in front of the equipment, looking and listening for any obvious issues.)
'Can you hear that whistling noise? Remember we saw dirt streaking on the carpet around the registers? That indicates a restriction in the ductwork causing a number of problems. That whistling noise is another indication of the same thing. We'll take a measurement to determine what's going on.'
(After opening the furnace cabinet doors.)
'It appears that there is a fair amount of dirt and debris here. May I ask when was the last time you had your system cleaned or maintained??
(Use your phone to take a photo of the inside of the blower.)
'This amount of dirt is to be expected on a system of this age. The problem with dirt is that it restricts airflow, making it harder to get warm and cool air to the rooms farthest from here.
'It stresses equipment, causing more frequent failures and repairs, and it makes your utility bills higher. Does it make sense that we make sure this doesn't happen in your new system??
Taking Notes
Throughout this engagement and discovery process, you should take notes and write down the customer's responses. This affirms that you are listening and that what she says is important. Later, when you create your proposal choices, the choices will include varying degrees of solutions that reflect her specific needs and wants. Engaging the customer by asking questions, listening, and taking notes is a very powerful sales tactic, one that should never be skipped.
Selling Yourself
Everything we do as sales professionals impacts customer thoughts and feelings about us. You may be the most thorough and expert HVAC person to have come to her home, but if she doesn't know that she can trust you, then you will not make the sale.
Consciously invest your time and effort into creating the best possible connection with your customer.
Let her know that she and her family's needs are the most important consideration and you will help her by answering questions. Engage your customers, offer solutions to problems, ask for the sale in a professional manner, and you will sell more jobs, at higher prices.
Tom Piscitelli has over 40 years' experience in HVAC sales, sales management, marketing and consulting.
His articles have been published in trade magazines, he often speaks at industry events, he has produced three HVAC sales training DVD's and he particularly enjoys bringing cutting edge training approaches to our industry. Visit www.sellingtrust.com.