'Those contractor relationships were key to our prior success as well as our success going forward,' he says. 'Our success also stems from all our excellent technical development and support. Everyone in our tech department came from the field, so they understand what the technicians need.
'They can talk intelligently to contractors. They make it easy for contractors because they quickly get them the answers they need.'
Another service is what Barton calls Arzel's after-hours and weekend technical services, as well as video 'virtual' technical support (using cell phones on the jobsite if necessary).
He says they feel that HVAC technicians in the field are the guys who support Arzel the most. 'So it's essential that we are here to support them when they need it. You can't put a price on that kind of value, and I think contractors recognize that,' he adds.
Key Issues Facing Arzel Today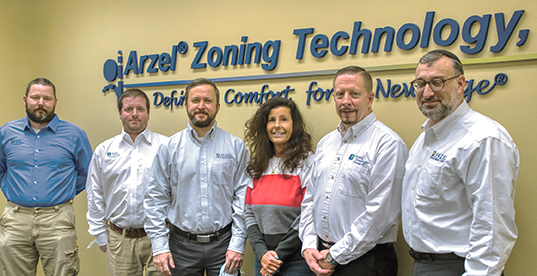 One of the critical issues Barton sees today is finding ways to help contractors become more comfortable talking about zoning in general and the Arzel product in particular.
'If the contractor doesn't talk to consumers about zoning and its benefits, the customer doesn't know what they don't know,' he says. 'They can't ask intelligent questions. If I could change one thing, I would like every homeowner to know what zoning is. For that to happen, I'd like contractors to learn more about it themselves and then talk about it.'
That is the Arzel Comfort College focus.
For these and many more reasons, we cast our spotlight this month on Arzel Zoning Technologies. Congratulations to the entire team.