Mark Hawkinson, president of the Technical Solutions Group of ABM Industries (a national facilities management firm), says that building owners' strategies must recognize that re-occupancy of their buildings won't happen all at once. It will be in phases, and owners must 'prepare to scale.'
In his article (ncilink.com/FacilityExec), Hawkinson points out that so much depends on the speed (or lack thereof) of vaccinations. He also points out that people's comfort levels for returning to offices arevaried.
Building owners and managers need to prepare for eventual hybrid models where tenant employees work partly from home and partly from the office. Owners and managers need to ramp up resources to help comply with social distancing mandates. They must work hard to develop reliable supply chains and maintain a solid stock of cleaning supplies.
Most importantly ' they need to really update and upgrade their HVAC systems to assure proper air changes, air quality, comfort, and energy efficiency. This is fantastic news for the HVAC Industry.
Commercial HVAC Market Outlook
More good news: Grand View Research reports that the commercial HVAC segment of the U.S. market is expected to 'register the highest compound annual growth rate (CAGR) during their 2020 to 2027 forecast period. THis is due to increasing urbanization and the rise of construction spending in the commercial sector.
They state that 'retrofitting and replacement of these HVAC units with energy-efficient solutions to minimize energy consumption is expected to drive the segment growth.'
Add to that, the commercial real estate industry today provides even more opportunities, especially for High-Performance Commercial HVAC contractors. With building owners concerned about creating safe environments for tenants and their employees, HVAC systems are more critical than ever.
One of the easiest ways to create those safe environments is to make sure buildings have proper air conditioning, heating, ventilation, and excellent air quality to protect and provide ideal comfort.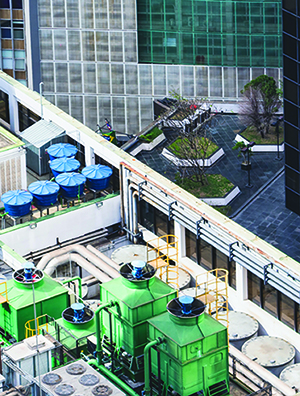 Ventilation is key
The U.S. Occupational Safety and Health Administration (OSHA) states that 'Adequate ventilation throughout the work environment can help to maintain a safe and healthy workplace (ncilink.com/OSHA-COVID).'
The building's ductwork must allow for proper airflow throughout a building because proper airflow removes contaminated air and replaces it with clean air.
With clean indoor air so crucial during the pandemic, building owners and managers are keen to improve their systems, replace older systems, and better service existing systems. Commercial duct renovations as well as system testing and balancing bode well for the High-Performance HVAC contractor.
The Service Component
Speaking of service, preventive maintenance is more important than ever today. Commercial HVAC contractors should see growth in their service agreement services. According to CMS NextTech (another facilities management organization) that advises building owners to 'determine exactly what you have under the hood' before resuming the daily operation of HVAC systems. HVAC contractors can help with this by testing and measuring the systems and offering a menu of upgrades to improve and make them more COVID-safe.
Energy efficiency also remains a top concern for commercial building owners. In its annual Energy Efficiency Indicator survey of facility managers, released in December 2020, Johnson Controls found that more than half of those surveyed plan to increase their investment in energy efficiency, renewable energy, and smart building technology in 2021 and beyond.
Johnson Controls Vice President of Global Energy and Sustainability Clay Nesler says, 'The Covid-19 pandemic highlighted the need to improve the health and safety of buildings, particularly by increasing their ability to operate under different conditions, both planned and unforeseen.'
He adds that although the pandemic has changed how people are investing in their buildings, 'occupant health and energy efficiency continue to be top of mind, and we anticipate these investments will be a priority in 2021 as more people return to shared spaces.'
This survey shows that 79% of building owners either already have or plan to increase air filtration. Seventy-five percent are planning to or already have installed an air treatment system. And 72% have already or are planning to increase outdoor ventilation rates.
This is terrific news for the Commercial High-Performance HVAC community because all of these needs fall into their professional wheelhouse. They should see increased business as more building owners jump on board and
begin prepping their facilities for the return of workers.
Click Below for the Next Page: