'Repurposed Baking Pan?
? Scott Thompson, The Lee Thompson Company, Houston, TX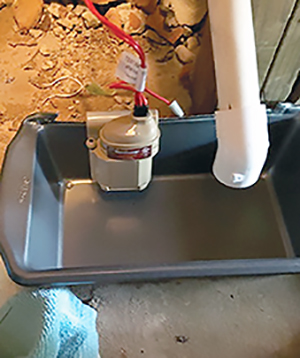 American ingenuity really knows no bounds, especially in the HVAC universe. For example, this customer needed a drain pan and decided a Do-It-Yourself approach was called for. The overflow line goes into this pan and shuts off if it ever fills up. This is Genious!
Scott Thompson from The Lee Thompson Co. is the October 2020 winner of our Photo-of-the-Month contest in the 'Bad' category, as voted on by the subscribers to the High-Performance HVAC Today magazine and visitors to the website (hvactoday.com).
He will receive a $25 gift card.
You can too ' submissions are always welcome. If you'd like to submit a photo for consideration in our Photo-of-the-Month contest, go to ncilink.com/POMSubmit and fill out the information as requested.
THE NOVEMBER CONTEST OPENS ON OCTOBER 09, 2020.
That gives you plenty of time to submit something in any of our three categories: The Good, The Bad, and The WTH (What the heck).