Written by HVAC Professionals for HVAC Professionals
BlackMaxx BTB300 Premium Ratcheting Tube Bender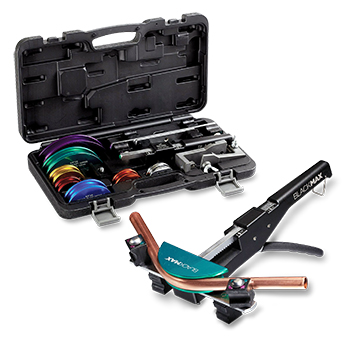 Cooling Season is right around the corner. This means that installers will operate at full speed all over the country. With today's tools and technology, why not make the job easier. With the way of today's world, it is critical that every aspect of system installation practices and profit are in line.
Refrigerant piping is critical, and it takes time and money to do it right. We are way past the days of using our thigh as a tubing bender, or needing five copper 90s and two 45's to make a connection from lineset to equipment. BlackMaxx has built a unique tubing bender to save time on install and reduce cost for copper fittings.
The BlackMaxx BTB300 Ratcheting Tubing Bender, by CPS Products, is made from steel and aluminum. This enables installers to bend copper from ¼-in. all the way up 7/8-in. This bender uses color coded and easily detached mandrels and shoe arms. Color codes make for easy recognition for visual installers like me.
The BTB300 comes in a hard case for easy storage. It is streamlined so you can store it in the truck without taking up too much room. This bender can also perform a reverse bend for those tighter applications.
The ratchet handle has a double feature not only to compress the copper to set the angle, but also click it in reverse to release the tubing for easy removal. Coming from the days of using a thigh bender, the BlackMaxx BTB300 is a perfect tool to reduce time and material and provides a cleaner looking job.
For more information, go to ncilink.com/btb300.
­— By Casey Contreras, NCI Instructor