They say that change is always difficult, and that those who can't adapt to changes get rolled over by them. OK, I made that up, but I think you get my point. Now that 2021 is in the rear-view mirror, it's time to step away from the negativity of the pandemic and take a look at all the things for which we, the HVAC Industry, should be thankful.
First on my list is the HVAC contracting industry itself. Contracting is perhaps the only industry that can never be outsourced to another country! It is national in scope but focused locally. Contractors are unique in that each job you do is a custom project where your creativity IS the product and service. That creativity directly results from your training and your ability to sleuth out issues that impact comfort.
The industry should also be thankful that HVAC contracting is finally recognized as essential. Comfort is directly related to productivity, health, and safety at work and more than ever at home, thanks to the changes wrought by the pandemic. That means Indoor Air Quality (IAQ) has become an even bigger part of the comfort lexicon in the 21st century. That is great news.
If you're not sure about the importance of IAQ, especially in commercial HVAC and refrigeration, just read Don Langston's article on page 16.
One hold-out issue from 2021 that will continue impacting Americans is the supply chain. Shortages of goods are helping to drive up prices on everything from gasoline to food to household appliances. Think about what it costs today to fuel up one of your service trucks.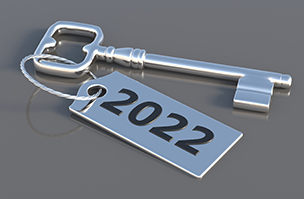 It would be advantageous to reflect cost increases in your pricing. That means your prices should increase too. Think of it this way – your costs are rising because it's harder for you to get equipment, tools, and parts. Plus, if you spend more training your technicians to keep up with technology, account for those costs in your prices as well.
Don't worry about customers balking at that. They know prices are rising. It's currently unavoidable. They will, for the most part, be more than willing to spend the cash for improving their home's comfort and efficiency.
Another thing to be thankful for and proud of is the ability of the HVAC Industry to be nimble. So many contractors were able to pivot as the world panicked and closed down. As an industry, we adapted to that new normal and found ways to accommodate customer needs, keep employees on the job, and serve the community.
You did this by getting creative in the services you offered or in the ways you approached sales calls. By putting customer and employee safety first, you made the stay-at-home environment better. Your work will pay dividends far into the future.
So Be Thankful
And be thankful that you are entrepreneurs, masters of your fate. You understand that adversity is part of the game. Sure, inflation is rampant right now. But you have the ability and resources through your trade associations, membership organizations, distributors, and manufacturers for turning the corner.
These industry entities can help you with marketing – standard and digital. Yes, you'll need to spend more on that front, but that is how you grow leads. That is how you increase business. And that is how you thrive in the new normal.
Finally, be thankful that the world is beginning to open back up. Think about attending industry events like National Comfort Institute's High-Performance Summit (gotsummit.com) to add the peer factor back into your knowledge equation.
As an industry, we are in this together. As contractors, you've got this. Be thankful and set your sights on a winning year in 2022.