As you know, there are still many challenges with traveling during this pandemic. In addition, we face the strong possibility of additional waves. For this reason, we've decided to make this year's High-Performance HVAC Summit a virtual live event.
Virtual Summit Week 2020 will happen from October 5-9. The best part is you won't have to leave the comfort of your home or office to participate. In fact, we are making it easier and more affordable than ever to 'bring' more of your team to Summit this year.
With NCI's improved communications technology and our ability to create very interactive virtual events, this year's Summit will be an event like no other in our industry.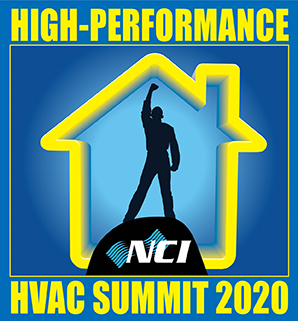 When the lockdowns first hit, NCI immediately began investing in technology and curriculum development to take as much of our training online as possible. We built a robust video studio within our headquarters training center, and continue to improve and learn from our experiences.
In early April we began broadcasting live training and recertification events. In just a few months more than 600 students participated in NCI's live, online training events with more than 300 achieving recertification in six different areas.
We also are rolling out several brand-new recertification classes over the next few months.
What will our first Virtual Summit look like?
Our team is currently putting all the pieces in place to create the most interactive online event we have ever held. Nearly every feature of Summit that our members and students have grown to enjoy over the years will be virtualized to allow for intensive interaction with our presenters, fellow contractors, and our industry partners.
As advertised, this year's theme will center around coaching your team to high performance. Our general sessions and breakouts are all focused on how to communicate with and coach your entire team.
Our opening session will once again kick off with our fun and informative game show, 'Reach For The Summit.' This year's contest will also focus on coaching. Attendees will actively participate by assisting our contestants with 'audience voting' on correct answers. In 'Reach For The Summit' tradition, NCI coaches will provide commentary throughout the session.
Each of this year's breakout sessions will focus on communicating with and coaching different groups on your team. The session content will help you provide a cohesive and consistent experience for your customers as your company delivers high-performance service, system replacement, and renovations. For details on this year's breakout session be sure to visit ncilink.com/2020breakouts.
Virtual High-Performance HVAC Summit 2020 will include all the same events normally held during our in-person Summits, including Our Idea Meeting, where contractors bring sales and marketing ideas and can win cash prizes, to our Virtual Tradeshow where you can learn about the latest products and services from our industry partners.
Summit 2020 will also feature several general session speakers, a special contractor panel discussion, and our coveted NCI Contractor and individual Awards.
Bonus Pre- and Post-conference Sessions!
We will again offer several pre-conference sessions on October 5th, and three post-conference recertification classes on October 8-9th.
Registration will be open within the next few weeks and will include reduced conference fees and special group pricing. In addition, you'll save big by eliminating travel and hotel costs this year!
Be sure to mark your calendar for Summit 2020 the week of October 5th, and visit GoToSummit.com for more details. We will soon be sending notices when registration is open for what promises to be the best and biggest High-Performance Contractor virtual event of 2020!