Get Your October 2021 POWER PACK Today

This month we provide you with more content focused on combustion safety. Some of the tools included each month may not normally be accessible with your membership subscription package. However, you can access these tools through this Power Pack portal during the current month.
Here is what the October 2021 Power Pack includes:
How to Perform Draft Interference Testing

(Recorded Webinar)

Carbon Monoxide Visual Inspection Form (

Download)

SafeMaxx™ Carbon Monoxide Test Report

(Download)

Heating System Temperature Measurement Procedure

(Download)

"Cold Feet?" Heating Postcard

(Download).
We think you'll find these tools and training materials very helpful as you continue to grow your High-Performance HVAC business.
Be sure to share your October PowerPack with your entire team. Go to ncilink.com/PwrPak to access it today.
If you have any questions or are unable to access any of the tools in this program, please contact us at 800-633-7058.
---
Live Fall Training is Back and Stronger than Ever!
Ladies and gentlemen – National Comfort Institute (NCI) cutting-edge training is back. It's live and in person. And it is better than ever. Now is the time to get your team ready for Fall and Winter. You will find all the training and expertise you need to solve customers' comfort issues without guessing.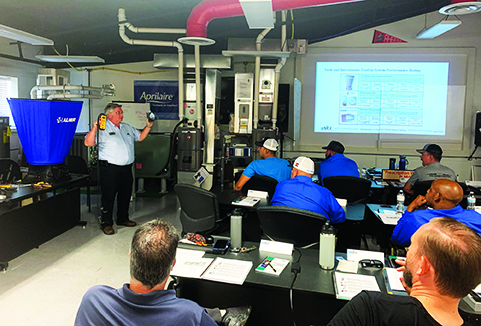 NCI's certification courses, like Duct System Optimization and Combustion and Carbon Monoxide Safety, are scheduled throughout the U.S. Find out why NCI says, "If You Don't Measure, You're Just Guessing.™"
Here is a list of just a few of the courses being held across the country:
Duct System Optimization and Residential Air Balancing Certification Program
Nov. 9-11 in Houston/Jersey Village, TX
Dec. 14-16 in Milwaukee/West Allis, WI
Residential HVAC System Performance & Air Balancing Certification Program
Nov. 2-4 in Union City/Atlanta, GA
Nov. 30 – Dec. 2 in Orlando, FL
Nov. 30- Dec. 2 in St. Louis/Earth City, MO
Dec. 7-9 in Philadelphia, PA.
Commercial Air Balancing Training Program
Nov. 16-18 in Cleveland, OH.
Plus there are many other live and online classes in Combustion Performance and Carbon Monoxide Safety, Hydronic Testing, Adjusting, and Balancing, and more.
You can see the entire Fall/Winter in-person training schedule here: ncilink.com/ClassSchedule.
Furthermore, don't forget that it's a perfect time to schedule On-site Training in your place of business. On-sites let you train your entire team, from your own offices or training rooms. You can schedule that training for the times that work best for you.
Want to learn more? Just go to ncilink.com/Onsites for more information.
Oh yeah – don't forget that you can use NCI Bucks to help pay for that training. Learn more about the NCI Buck program and how to use it here: ncilink.com/bucks.