Contractor of the Year ' what does that even mean? For the National Comfort Institute (NCI), it recognizes the very best contracting firms dedicated to the Performance-Based Contracting' method.
These companies are part of an elite group: dynamic and professional with owners who seek new ways to improve their business by delivering real, provable comfort to customers.
They represent a growing breed dedicated to learning and acquiring the skills needed to run their businesses and truly deliver on the promises they make to employees and customers. These are the leaders of our industry.
There are three winners because there are three categories: Small Contractor of the Year (achieve under $2 million in annual sales), the Medium Contractor of the Year (achieve between $2 and $6 million annually), and the Large Contractor of the Year (more than $6 million in annual sales).
The Criteria
All NCI Contractors of the Year must meet the following criteria:
Implementation of Performance-Based Testing into their daily routine
Have or are in the process of implementing a Performance-Based Business Culture
Maintain a Strong Agreement-based Service Department
Conduct System Renovation Sales as a regular part of their selling process
Training is an important part of the company culture.
Small Contractor of the Year
This year's winner is Punbar LLC, a fairly new company that began life as a fully functioning High-Performance HVAC company. Based in Houston, Texas, Punbar was born in 2015. It was created fom the need to provide real system performance in an area where humidity is overwhelming.
Ronald Amaya and business partner Diego Guerrero are both engineers who originally came to the U.S. from Venezuela. They found they couldn't make their own homes comfortable and couldn't find an HVAC contracting firm to help them. So they decided to start their own company that could.
For that reason, they did their homework and discovered NCI, which taught contractors how to measure, test, and measure again.
Amaya says, 'NCI classes showed us that system designs were usually right. The problems often involve their original installation. We discovered it's not only about proper airflow, but it is also about how you deliver that airflow.'
They also learned in their training that managing the business to support the High-Performance approach to HVAC is equally important. They developed processes and use tools that make it easier for the field technicians to do their jobs. Amaya adds they use the same data during the selling process.
'We are one of the only HVAC companies that look at the entire picture of a customer's home,' Amaya says. 'When you do that and explain airflow in the same context as human blood flow, and then give them choices, customers are sold before you even bring up the price.'
Medium Contractor of the Year
GV's Heating and Cooling LLC, of Glenview, IL, was founded in 1990. It's located on Chicago's North Shore and serves residential and light commercial customers throughout the area.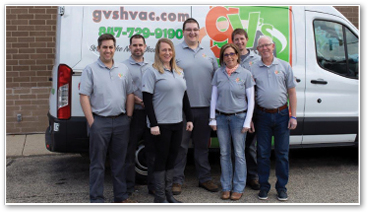 Owner Greg Vickers says his journey to high performance began in 2009 when he learned about NCI. He took his first class (taught by Rob Falke) in 2010.
In the beginning, only Vickers attended classes. He wanted to understand Performance-Based Contracting' before introducing it to the company.
Eventually his daughter, Dawn Vickers-Mroczek, began taking classes. Together they started their implementation process on the sales side of the business.
'Dawn and I were the only two salespeople at the time. So we began doing static pressure testing on most of our calls,' he says.
Once they 'got the hang of it,' both Greg and Dawn began holding regular training sessions for the technicians. They taught them how to do static pressure testing, interpret the results, and offer customers options.
That is why today, GV's Heating and Air Conditioning is 100% focused on High-Performance contracting and, according to Vickers, everyone is on board.
'As we began diagnosing problems and solving them, we started getting calls from people having issues other contracting companies couldn't fix,' he says. 'They'd ask us to help and we would. When that started happening, our techs saw how we really provide a different service, and THAT got them fired up.'
So winning the NCI Contractor of the Year Award is, in Vickers' opinion, a tremendous honor and proof that what they are trying to do is the right thing to do.
'Our employees can really see the importance and value of what we've been pushing and there is virtually no resistance to it anymore. Now that they've seen that effort recognized by NCI, it means the world to them.'
Large Contractor of the Year
When it comes to diving deep into Performance-Based Contracting', Control Point Mechanical, Shrewsbury, MA, is truly at the controls. After all, company founder and owner Nick Lupo's career began in the U.S. Navy working on nuclear reactors on board submarines and, he once would tell you, if he can fix those, he can certainly do the same with HVAC systems.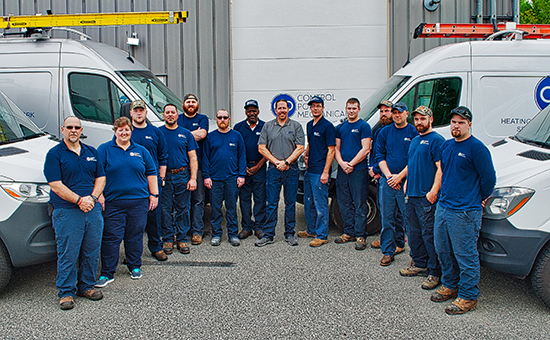 Control Point is located in Shrewsbury, MA ' a suburb of Worcester, located about 45 minutes from Boston. Lupo founded the company in 2007 to focus mostly on the commercial and industrial marketplace. He added residential to the mix in 2017 and this year achieved combined gross revenues in excess of $6 million.
He says that from the very start of his HVAC career, he measured and tested every system on every job.
'It's just always been how I operated. When I started Control Point Mechanical, it became part of our culture. NCI helped me formalize what I was already doing and continues helping me take it to the next level.'
He adds that NCI membership does another important thing for his company ' it shows him how to set up the systems necessary to support a performance-based contracting culture. Lupo says they get a lot of help from NCI trainers to develop the necessary back-office processes which make everything work.
Winning the Contractor of the Year award, he says, is 'the icing on the cake.'
'It is a team effort. Even though it requires training and a lot of it, we are committed to staying on the cutting edge. We absolutely invest heavily in it.
'And it is the people of Control Point ' the field team, the office staff, everyone, who truly make it work for us. But more importantly, they make it work for our customers,' Lupo says.
So what is a Contractor of the Year?
It is a Performance-Based Contracting' firm dedicated to changing the world one job at a time. These three companies epitomize this by putting into practice the tenets of High-Performance HVAC Contracting. Congratulations to this year's winners.